Linking up with Anne at Modern Mrs. Darcy for this month's Twitterature, and sharing short reviews of current reads.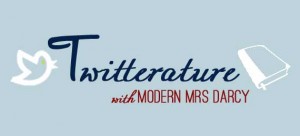 What am I reading these cold days? A quick snapshot.
After the girls in our family read (and adored) the new and so-much-fun Dear Mr. Knightley (read my review here),  I considered re-reading Webster's most famous novel Daddy Long-Legs (Dear Mr. K is homage to that book), but I also knew I needed something totally fresh, and I've never read Just Patty though it's been on my Kindle App for ages.  It is truly hilarious, as in I am laughing out loud at different antics.  It's a little bit like a novel version of the movie The Trouble with Angels
, but set in early 1900s.
Just Patty. Just funny. Such a good laugh this time of year. because #February is coming, people.
All the Money in the World by Laura Vanderkam.
This is a re-read for me; I first read it in summer 2012 and had great things to say about it then.  I pulled it out again as I'm listing along with many others for a talk I'm slated to give to a  women's group next month.
As I've written before about All the Money in The World, Vanderkam writes about having a healthy relationship with money, and spending money in  way that best reflects one's values.  She also makes the case for charity being good for the soul and the body, something many personal finance books downplay.   I'm a big fan of Vanderkam in general–I've read most of her books and mini-books (short e-books like What the Most Successful People Do on the Weekend are a great quick read.  She's sensible and conversational, and I always come away with lots of ideas for making life better for me and those around me.
This time what's standing out for me is the "List of 100 Dreams," and finding ways we can make a list like that in our family, and make some of those happen. This definitely makes the must-read "life skills" books for my teens.

 The Good Master by Kate Seredy.
Short review? I love that my kids are old enough now to "make" me read books that I've somehow missed over the years.   I'm glad they made me read this one.
Over time, I've picked up most of Kate Seredy's books at library sales, since I've always heard they were something special.  All my kids have loved and read these books, but I never read them aloud or even read them for myself.  Finally, several weeks back, when I was getting over a stomach bug that had hit our house, one of my kids demanded that I read it.
This is a lovely book.  Seredy's writing style is simple yet lyrical.  This book would be a great evening read-aloud for elementary school ages.  The chapters are longish, but almost all of them end with a Hungarian folk story told by one of the characters.  It's not a thrilling, page-turning read, but you'll be glad you read it.
What are you reading this month?