Following is my March books column that appears in the March 2 print edition of  The Catholic Post. I invite your feedback here or on Facebook or Twitter.
Lent is just about halfway over. How's it going for you?
Usually by this time, my bold ideas of Lenten prayer, fasting and almsgiving have been breached on several occasions, and some are abandoned entirely.
Even if I am mostly sticking to my plans for this Lent, spiritually things can begin feeling pretty dull and lifeless. Why exactly was it a good idea to give up chocolate?
I find myself pining for St. Patrick's Day and St. Joseph's Day, two feasts when many (and I'm raising my hand here) relax their Lenten fasts. Instead of just enduring Lent until we can celebrate Easter, care to join me in a mid-Lent re-do and consider ways to actually celebrate this season?
There are plenty of classic works to turn to, whether St. Therese Story of a Soul, or my Lenten favorite, St. Francis de Sales Introduction to the Devout Life.
But here are some recently-published titles that just might fit the bill for a Lent "re-set"– lively and readable works to boost your spiritual life.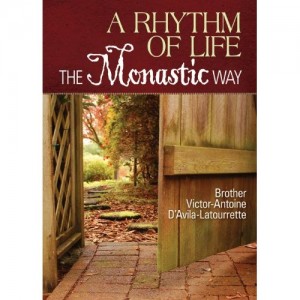 *A Rhythm of Life: The Monastic Way by Brother Victor-Anoine D'Avila-Latourette.
Brother Victor is best known (to me) for his cookbooks with simple monastery fare, but this handsome book is both an introduction and a sourcebook of all things monastic. Reading one or two of these short chapters at a time about how life is lived in the monastery invites reflection about how to make our lives more prayerful and joyful.
*Lent and Easter Wisdom from St. Vincent de Paul by John E. Rybolt, CM. This is a simple Lenten daybook with quotes from St. Vincent, Scripture and reflection. I haven't read much from St. Vincent de Paul, but the quotes are remarkable, spiritual wisdom well worth pondering. St Vincent has been such an inspiration for the Church's lived expression of charity over the course of centuries.  This collection makes his words more accessible."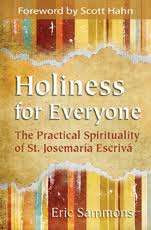 *Holiness for Everyone: The Practical Spirituality of St. Josemaria Escriva by Eric Sammons is a simple introduction that lays out St. Josemaria's simple spirituality of living well in everyday life. I like that the book is simply written, but still has much food for thought and challenges to everyday Catholics.
Younger readers can also benefit from spiritual reading and reflection: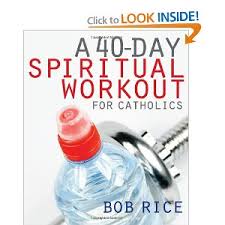 *A 40-Day Spiritual Workout for Catholics by Bob Rice.  Local teens will recall he spoke at last fall's Diocesan Youth Rally. In this book, Rice uses St. Paul's admonition to "run the race" by inviting readers to grow in their spiritual life, using the jargon of workouts. Each selection of Workout, like all good workouts, begins with "hydration" in Scripture verses and short reflection. Eventually, other workout-themed ideas are added in, such as "stretch" (prayers of blessing and adoration), "fat-burning" (confession), and even the Catholic "cool-down. (an Our Father and Hail Mary). For the tech-savvy, the book even comes with an app.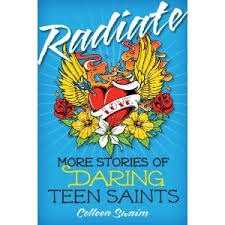 *Radiate: More Stories of Daring Teen Saints by Colleen Swaim. I am a huge fan of Colleen Swaim, a high school teacher and author who's written this "sequel" to the wonderful Ablaze: Stories of Daring Teen Saints. Swaim provides a freshness to the stories of well-known saints like St. Bernadette, while introducing young readers to little-known saints such as the Korean martyr Saint Peter Yu Tae-Chol, and their daring lives. The book is well-designed, and full of extra features, like prayers, explanations of parts of our faith, "saintly challenges" with ways to extend the life and culture of each saint into modern life.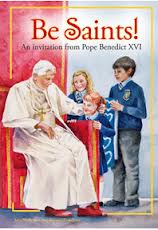 *Because it's a "picture book," Be Saints! An Invitation from Pope Benedict XVI by Amy Welborn, seems like it should only be for "little kids." But really, anyone could benefit from perusing or even meditating on this book. Each two-page spread of this book has a lovely watercolor painting by Ann Kissane Engelhart, a quote from Pope Benedict XVI on what Vatican II called "the universal call to holiness," and a complementary quote from a saint or Scripture.
What are you reading this Lent?