Following is my April column that appears in this week's print edition of The Catholic Post. 
When Mother Angelica died on Easter Sunday this year, there were myriad tributes to her life and influence. Many quoted her pithy, tongue-in-cheek, but often pretty true, zingers. One of my favorites was shared on Facebook by Catholic Memes. It's a laughing photo of Mother with the caption, "If it wasn't for people, we could all be holy."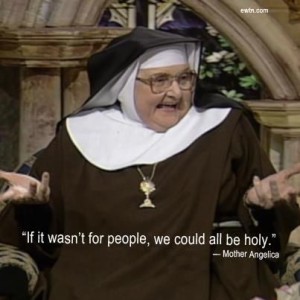 Isn't that the truth? It's easy to be a "good Catholic" in theory. It's when reality sets in—that of our own weaknesses and flaws, combined with the weaknesses and flaws of others— that our best intentions and desires to "be good" are often thwarted.
So how do we try to live holy and inspire others to live the Catholic faith? That's the premise of an appealing new book on attracting people to (or back to) the faith.
It's The Prodigal You Love: Inviting Loved Ones Back to the Church by Sister Theresa Alethia Noble, FSP.

Sister Theresa, once an atheist but now a Daughter or St. Paul, has written an incisive and spiritually rich book both about her own experience. She grew up Catholic, left the faith (and any faith) for many years, and then not only returned to the Catholic Church, but discerned a vocation to the religious life. She writes about how people can approach those who have left the faith, not just to convert them back, but to model a healthy, wholesome faith.
Sister Theresa weaves the story of the Prodigal Son parable throughout the book, showing how we ourselves are prodigals, along with those who may have left the faith behind. The Prodigal You Love  explores how Scripture, the saints, and our own struggles, offer us the way to inspire others in ways we may never understand fully in this life.
For instance, in a chapter on doubt, Sister Theresa points out that how we encounter our own questions and uncertainty can help others:
"We can learn to model a healthy relationship with doubt by living our doubts honestly, while at the same time holding them lightly."
 Sister Theresa also shows how while our ultimate goal may be having those we know in the fullness of the Catholic faith, we have to respect the free will of others to choose, as she did for a time, a different expression of faith, or even no faith, all the while praying for conversion and for Christ to reach each person in a different way. She quotes Saint John Paul II's statement, "It is necessary to keep those two truths together, namely, the real possibility of salvation in Christ for all mankind and the necessity of the Church for salvation."
Several months ago, a young woman I know posted her disgust and frustration on Facebook about her college alma mater supporting something dreadful. A priest friend commented: "Be a saint. All the outrage in the world goes nowhere. Saints change hearts."
Ultimately, that is the message of The Prodigal You Love. When we seek holiness and live a life of prayer amidst our daily responsibilities, desires, and faults, we will change hearts, starting with our own, as well as those dear to us, and even those we may not know well or at all. As Sister Theresa writes, "Precisely because it is difficult and requires holiness, the evangelization of our loved ones in an intense path to sanctity."