My blogging has been seriously light of late.  That means a busy and full life off-line, and actually a ton of reading, that I wish I could get onto here as well.  I have some great ideas as we head towards Lent, so stayed tuned.
While I hope that the approach of Lent will help me get back into a groove blogging-wise, I wanted to highlight a show that will be premiering tonight on EWTN, "The Faithful Traveler in the Holy Land."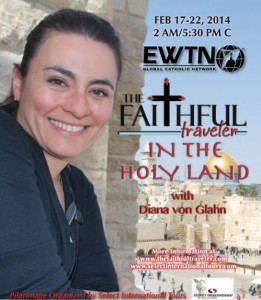 I have been a fan of Diana von Glahn, the face behind "The Faithful Traveler" series, since way back when she had a series of US-based travel shows that featured Catholic pilgrimage locations, primarily along the East Coast.  We DVRd it back then, and my husband and I (and sometimes our kids) would watch one every so often and really enjoy it.
(True confession/rant here: Much later, I discovered when going through a spam folder that Diana had actually e-mailed me to review that first series in advance of it coming out.  I was so sad! And it just annoyed me to no end that I still don't have a good system for keeping up with e-mail.  I've just resigned myself to being as good as I possibly can with it, and not getting too annoyed at missed things–like this!–in the past. True confession over).
So I was very excited to read in the EWTN newsletter that Diana and Dave von Glahn, the husband-wife team behind "The Faithful Traveler"  had a new series premiering on The Holy Land.  It airs tonight and every night this week on EWTN, and can be streamed on the website here.
Those who know me well in real life will know that one big goal I have for our family is to make a pilgrimage to the Holy Land sometime before our kids are all grown up.
My husband Joseph and I are  members of the Equestrian Order of the Holy Sepulchre of Jerusalem, and the daily requirement of being in EOHSJ is to "pray for the peace of Jerusalem."  One of the lifetime requirements is to make a Holy Land pilgrimage.   Since I was pregnant with our youngest child when we were instituted, we haven't made our pilgrimage yet.  So watching this series will be a good way to go on a virtual pilgrimage right away, and inspire us to begin our planning for it.
I tell people from time to time that I'm saving pennies so that  we can go on a pilgrimage with Steve & Janet Ray of Footprints of God Pilgrimages.  And I still think that may be our plan, but I was happy to see that the von Glahns are also hosting a pilgrimage this summer.  I know this summer won't work out for our family's schedule, but I hope they continue to offer Holy Land pilgrimages.
In the meantime, over the next few nights we will be watching what I expect will be an excellent series about the Holy Land.   And to the von Glahns, know that I am a big fan of your work!
Have you made a Holy Land pilgrimage?   Any advice for me if you have?