Second in my 7 posts in 7 days. 
I normally don't do many link-ups, but this week I'm making an exception because I'm trying to do Jen Fulwiler's 7 posts in 7 days, and I thought this would be a fun mix-up.  So plan on a lot of link-ups this week, but no guarantees about the future.
Kendra from Catholic All Year will be at the Behold Conference this weekend, and in her honor, I thought I would join in on her "Big Purse Dump."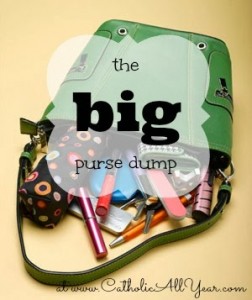 So, I know Kendra specified "purse-droppers" weren't supposed to clean out their purses, but one habit I learned from FlyLady, and one of the ones I'm actually pretty good at, is cleaning out my purse each Friday.  I don't think that counts as cheating, since I haven't cleaned out my purse since learning about  her link-up when reading about it at Bonnie's blog early this morning, but maybe the powers that be can weigh in on that.
Two other ways I might that I "cheated," but I don't think so:
*I have not just a purse but a small tote bag I carry some days.
*I cleaned out used kleenexes before I snapped the photos.
Around Christmastime, I took my older teen to Macy's to use up a cousin-gifted gift card.  I rarely go to Macy's, and there were huge sales on purses, so I thought I would look at them. I found not one but two purses, and one was this Fossil  striped tote that I really love. We happened to run into a friend who does often shop at Macy's, and she let me use her "frequent shopper" discount card or something like that, and so with the sale prices and that both purses together ended up being less than $30. I love a bargain!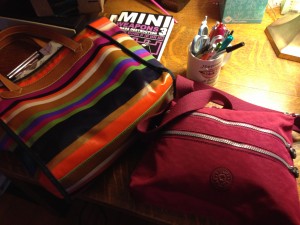 I've always been a "big purse" carrier, and stow tons of stuff in it—I always would joke with friends that I could go on the 1970s version of "The Price is Right" and Monty Hall would say, "I'll give you $50 for every safety-pin you've got in there!" and I would make tons of money. Does anyone even know about The Price is Right any more? This was summer early morning watching when I was in grade school, along with Schoolhouse Rock, on actual TV, just in case you were wondering.
But I am glad that I got the smaller purse, because it allows me to have a basic bag, and also pare down things I carry every day.  I carry the tote only when I need to, like this morning when taking kids to the dentist and might have a few minutes to myself.
[Random aside: Notice the stack of Mini Weapons of Mass Destruction
books towards the back of the table when I snapped this photo. This book series (we have 1, 2 and 3 from the library right now) is a huge, huge hit at our house at the moment, and the cardboard box there contains the supplies to make penny bombs, mechanical pencil shooters and other boy-crafty items. Super fun.]
Now, here is what is in the purse.  I'm only putting up one photo, that contains only half the items.  The other photo looked a bit like it had too much info from the inside of my checkbook and wallets, and I'm just leaving that out: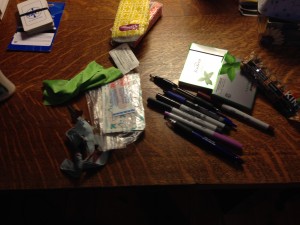 *black small bag with lipstick, aquafor, not one but three floss containers, nail clippers, etc.
*wallet not at all organized stuffed with receipts, cards, etc. Also, checkbook.
*deck of cards. I love playing cards, whether solitaire or a quick game of rummy while we are waiting somewhere. Call me crazy. I actually have a bit of a collection of playing cards, many from airlines back when airlines used to give you free playing cards if you asked. I have Northwest Airlines and Eastern Airlines, to show you how long ago it was. My current purse deck came from the Catholic school attended by some of our cousins.
*random receipts, gift card, rainbow loom thing made by somewhere along the way, hand sanitizer in a ziplock. That's kind of an interesting story. Once a hand sanitizer opened in my purse and got all over the place. Since then I've kept in a ziplock, just so you know.
*seven writing implements. I love sharpies especially, and I think five of the seven are fine sharpies.
*two fresh kleenex packets.
*mini first-aid kit made by my 13-year-old for me.
*stevia packet, Kind bar, two packages of my favorite gum, Trident Vitality.
not shown: my iPhone, which carries so much of the weight of things (literally and figuratively).
I didn't take a photo of the contents of the tote bag, since I don't carry it every day. I did happen to take it with me today when I took kids to the dentist. I normally put my laptop, but additionally this morning it included:
*trader Joe's chocolate
*random coupons
*another kleenex packet.
*several review books—I usually have two or three in there to skim or read during school pick-up or other random times.  Right now there are two in there: Embracing Edith Stein, I'm taking a lot of notes on that one; and Faces from Dante's Inferno. I just need to begin that one, but I feel daunted.
*a clipboard with random things attached—to do lists, scheduling. Trying to be organized…
*in an inside pocket, two shells from our January florida trip.  A really happy memory on a cold day here.
My thoughts:
*It's my favorite thing in here: not pictured, my iPhone. Just this morning, I was able to use it to make future dentist appointment, boy haircut appointment, consult my list at Lowe's, Target and Sam's Club, and make several phone calls & many texts, and skim the New York Times (none while driving, naturally).  In addition, the kids & I were able to do the readings from Mass (via Universalis) and do a little lectio divina on that, as well as finish listening to the audiobook of The Story of My Life
 by Helen Keller.
*Wow, I really have a lot of those: pens.  I can never find one when I need it, and yet there were seven.  Why?   This would also be in the category, I've been looking for those.
*Huh, that should be in there:   need to eat up the chocolate before Lent begins next Wednesday.
*finally: where are the holy cards and rosaries? I usually have a few here, but for some reason not at all, in either bag. I do have a rosary app, novena apps, etc., on my iPhone, but I'm usually not without analog items.
That was a lot of fun to do.   I might even try on Thursday to do a first-ever for me,  a phfr (pretty, happy, funny, real) from Like Mother, Like Daughter, in honor of Dierdre Folley being at Behold as well.  We shall see…
Thank you to Kendra, for hosting this, and I look forward to meeting you at Behold this weekend!