The Behold Conference is back!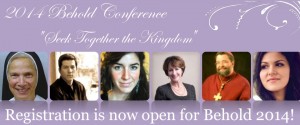 Here is the registration page for the 2014 event.  I plan to sign up myself and my older teen daughter, who enthused about the conference on Facebook and elsewhere.  Will you be attending?  What are you looking forward to most?
I am looking forward to hearing Mother Assumpta, and getting the chance to see Mary Rice Hasson and Marie Miller again.  I'm sure it is going to be great.
But I'm not going to be heavily involved with planning the conference this year. Last time,  I was "social media director."  I had to make a tough decision several weeks back to step back from helping with the conference in a "big" way.  I'll help out as needed, but I won't be organizing the "Meet the Bloggers" and blogger events as I did at Behold 2012.
On the one hand, I'm still grieving about not being hugely involved with Behold.  On the other hand, there has been enormous relief about the decision, and so much in our family's life in past weeks has confirmed that this was the right thing for me to do.
Strangely enough, Twitter was a source of comfort.  I'm such a Twitter failure (a la Amber Dusick, only with older kids), but I do really enjoy it for so many reasons.
Just a few days ago, I was on Twitter for work reasons (yes! that can actually happen).  I use the TweetDeck app on my laptop, and so as I tweet out, I can see new tweets for the five minutes I'm on here and there.  And just as I was about to close up, I saw this tweet from Kathryn Whitaker.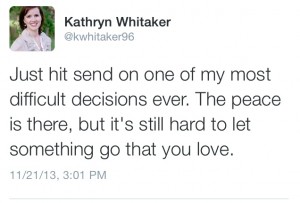 And since I was already overdue on getting kids out the door to an appointment, I couldn't take the time to respond.  But I felt so grateful for her tweet, and for putting into words what I had been feeling.  Letting go of something you love is hard.  So, thank you, Kathryn, for that tweet that I needed just at that time.  (And now I've gone and favorited her tweet–I wonder if it's too late to respond since it's nearly a week?)
Are you planning to attend Behold?  Have you ever had to let go of something you love?