We love St. Joseph's feast day at our house. My husband is a Joseph, and so is our 9-year-old son.  My father and my father-in-law, both now deceased, were also named Joseph.
This year is especially wonderful as we celebrate the installation of Pope Francis.
We are Italian, and my husband is Sicilian, so we have double or triple or I don't know how many reasons to celebrate today.
Most years, my husband has made a St. Joseph's treat called "savoiardi" from a recipe from this dog-eared paperback cookbook he's had since his 20s.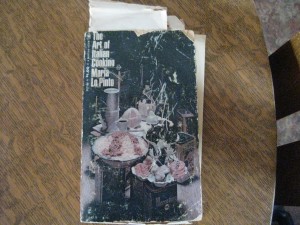 A few times, like this year, his work schedule has not allowed him to make them.   So yesterday my 12-year-old and I got out the book (gingerly! I want to say, so it won't fall apart, but the book has already fallen apart and is held together by rubber bands) and made them.
I am always a bit apprehensive to make savoiardi, because while it is a simple recipe,  forming them is a little tricky.  I also want them to taste good for my Josephs.  Fortunately, we did a good job, and they were pronounced terrific.  My husband especially enjoys dunking them in coffee.  Here's the finished product: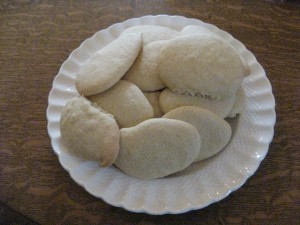 Savoiardi are basically homemade ladyfingers.  As you can see here, my handiwork is not perfectly straight "fingers" (and they really did spread a lot more than I remembered, so I could have made them smaller).
Ladyfingers are great for making tiramasu, something I have done in the past but not this year.  Almond extract is the only "exotic" ingredient in the cookies, and if you're looking for a neat treat to make today, here is the recipe: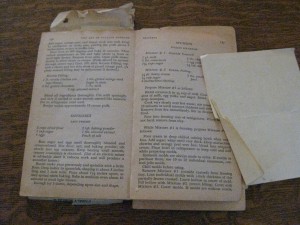 Well, that may be a little hard to read, even if you enlarge the photo.  Also, the recipe is written in a not super-clear format ("bake in a medium oven").  Here is my "translation" of the recipe:
Savoiardi (Lady Fingers)
Preheat oven to 350 degrees.
In a medium-sized bowl, place:
4 eggs
1 cup sugar
1 Tablespoon almond extract
Beat sugar, eggs and almond extract until thoroughly blended and cream-colored.
In a separate bowl, mix dry ingredients:
2 cups sifted flour
2 teaspoons baking powder
pinch of salt
stir dry ingredients slowly into egg mixture.
Beat with an electric mixer under a smooth, creamy consistency is reached. Drop batter by spoonfuls onto parchment-lined baking sheets, shaping it about 3 inches long and 1 inch wide.  (they will spread so leave plenty of room between the cookies)
Bake at 350@ for approximately 10 minutes or until light golden brown.
Finally, I want to share the ancient prayer to St. Joseph for a happy death.  St. Joseph is the patron of a happy death (though he's patron of much more, including the universal church, fathers, and pastry-makers).  My own beloved father died four years ago today, and since I was there I know that it was peaceful and quite beautiful.  I still miss him very much, but I'm so grateful to have had this prayer to pray at that time, and every day.
O St. Joseph, whose protection is so great, so strong, so prompt before the throne of God, I place in thee all my interests and desires. O St. Joseph, assist me by thy powerful intercession and obtain for me all spiritual blessings through thy foster Son, Jesus Christ Our Lord, so that, having engaged here below thy heavenly power, I may offer thee my thanksgiving and homage.
O St. Joseph, I never weary contemplating thee and Jesus asleep in thine arms. I dare not approach while He reposes near thy heart. Press Him in my name and kiss His fine head for me, and ask Him to return the kiss when I draw my dying breath.
St. Joseph, patron of departing souls, pray for me.
What are you doing to celebrate St. Joseph's Day today?