I have so many posts in draft, either in my mind or on my laptop, it is unreal.  I think I need to do one of those month-long blog every day challenges just to get me going.  But it's already November 4, so I'm just going to jump in and blog today, and ponder the concept for a future month (maybe January for me?)
 The post I have most on my mind is a somewhat depressing/somewhat inspiring one about the difference between turning 40 and turning 50.  But I think that would have be crafted a little more carefully before it's ready for prime time.  Also, I really want to share my own "life skills," bring back home ec, ideas from the Boston Globe article I first read about here from Dawn at By Sun & Candlelight.
Meanwhile, I just completed a super fun exercise, a "Roll Call" on a local home education list.  I got the idea from a literature e-group I'm on, and since I loved hearing about everyone's families and projects, I invited the other members to post about this during November.  The responses so far are great, and I thought, I better write mine since I'm the instigator.  But then I wanted to keep mine short so as to encourage those who might not want to write long.  And then I started writing and I was like, I can't stop! This is so much fun.
Because this made me happy, and got me writing without it  being such a chore, I'm sharing here (more personal information redacted):
———
I am Nancy. We home educated from the earliest days until a few years ago, when the kids spent 1.5 years at (small, terrific local Catholic grade school). It was a great experience for us, and helped clarify that there are myriad ways that work to educate children and be a happy, holy family.
Here are just three of the many wonderful things about educating our children at home in the early years. First, time with them and the ability to share so many early experiences/read aloud a million books with them. (this can also be a disadvantage, because: February). Second, I love that I was the one to teach all my children to read. Third, the ability to travel so much when kids were younger, chiefly when my parents were ailing & dying in Ohio and we could go back and forth a lot.
(Re: #2: hilariously, two of my children claim they taught themselves to read. I cannot laugh hard enough when I hear this, and so wish I had a video of even 30 seconds of all the hours I spent on the couch with each of them and my well-worn copy of "Teach Your Child to Read in 100 Easy Lessons," or various readers of all levels. Teaching kids to read is SO HARD, and I'm so proud that I did it).
When oldest daughter went off to (excellent local Catholic high school) last year, the younger two campaigned to be homeschooled again and I relented. I think I might have even said, "You know, it's about the same amount of work for me either way." I'm not really sure that is true, but I do enjoy having them around and learning along with them.
My husband works in health care ethics and ministry.  We call him the theologian/philosopher in the family, since he has a doctorate in theology and does a lot of that for work. I've never seen him without a beard, except in old photos (from high school or before).
I just turned 50 last month. I'm telling you because I LOVE my birthday. I also love dark chocolate, Jane Austen, reading, running, and lots of other things.
For the past several years, I have written a monthly book review column for The Catholic Post. This has been good for me spiritually & intellectually. Sometimes I love it, sometimes I hate it, mostly because this is how I feel about writing in general, even though my master's degree is in journalism. You think I would like writing more, but darn it's so hard sometimes. Here's the blog where I post my columns, other material from the Book Page, and assorted other writings:
http://readingcatholic.com
(and I encourage all of you to share if you have a blog or other online site).
Here is a random homeschool story:
Last week, when the younger kids and I perused the book Design Your Own Coat of Arms (suggested in The Story of the World, my favorite history curriculum), and we each made our own coat of arms. I kept trying to come up with a profound motto to translate into Latin, the preferred language for heraldry. For example, my 10 year old selected and translated into Latin, "cross bearer," since he's an altar server, and I got a little teary-eyed when he told me.
But for mine, finally I just gave up and translated into Latin "everything tastes better after a hike." But if I had to choose a funny motto, it would be (translated into Latin, of course) "we'll jump off that bridge when we get there," my mom's favorite Malopropism. She had a lot of those, but that is my favorite, and until very recently my children thought that's how the saying went.
Here, for realism sake, is a photo of my actual coat of arms: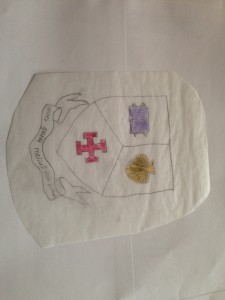 ——
That ended my roll call, and I'd love to hear a "roll call" from any reader who would like to share here, or on your own blog.  Or, if you'd like, care to share what your "motto" would be?  The kids & I would be happy to translate it into Latin for you–with help from Google Translate, of course).