Yesterday I posted the first half (read that here) of my column that appears in this weekend's edition of The Catholic Post.  Today is Part 2 of this.
 GeekPriest: Confessions of a New Media Pioneer has much to share about what's positive about the Internet and connecting online.
But as we can see from the news, or even from our own interactions online (exhibit A in three words? Facebook during elections) or trying to parenting children in the digital age, it's not all sunshine and roses.
Parents and kids can find it difficult to strike a good balance between being super-connected online, sometimes to the detriment of those around us, or to becoming a neo-Luddite, forbidding all tech altogether. There are myriad books and articles about this topic, but few are worthwhile.
In the last few years, I had two go-to books on this subject:
*Talking Back to Facebook: The Common Sense Guide to Raising Kids in the Digital Age by James P. Steyer, founder of Common Sense Media. As Steyer writes: "Both the perils and possibilities of this rapidly evolving digital age needed to be explained in pretty simple terms for the average family."
*The other is Plugged-In Parenting: How to Raise Media-Savvy Kids with Love, Not War by Bob Waliszewski. This book, by the director of Focus on the Family's Plugged In Online, offers a realistic and practical challenge to parents of faith to be involved in their kids' media choices.
But now I highly recommend a new book, The Big Disconnect: Protecting Childhood and Family Relationships in the Digital Age by Catherine Steiner-Adair, as a must-read.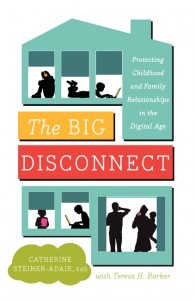 The Big Disconnect is not just great as information, but also as a springboard for discussion in families about technology's promise and limits for healthy individuals and families. Steiner-Adair is a psychologist and professional, so it's full of the latest research, along with many individual stories and case studies, showing the pitfalls of technology, especially for younger users, and what families can do about it.
In particular, she offers sobering and graphic evidence of the wide online prevalence of both bullying and porn, and life-damaging consequences of these for young people.
The finest chapter of The Big Disconnect is "The Sustainable Family: Turning Tech into an Ally for Closeness, Creativity, and Community." Rather than a "one size fits all" approach for a family tech policy, "The Sustainable Family" offers healthy principles for considering how to be mindful and proactive.
Consider this great quote, which in many ways sums up the chapter, and the book, and can apply not just to families, but to individuals within a faith community:
"Tech can be a tool that strengthens family connection, or it can dilute family connection. When family members 'fly solo' too much and spend time too much time pursuing their singular lives online with their out-of-family social networks, family cohesion erodes. Family ties loosen. Today's family must develop a relationship with technology without losing sight of the primacy of family relationships, because it is in protecting and cultivating these relationships that we make a family sustainable."
It's a tall order for families, especially parents, but for Steiner-Adair, it's worth the effort for the health of the family and its individual members, as well as the wider society.
That is the end of my print column, but I've been discovering, via what people share on Facebook and elsewhere, even more sobering realities about online life.  Here are just a few for parents, especially:
"Friends Without Benefits" from Vanity Fair — corrosive, misogynistic teen culture online.  "Social media is destroying our lives." "Then why don't you get off it?" "Because then we would have no life."
"Porn is the Most Pernicious Threat Facing Children Today" this is unbelievably depressing. 
And just so I'm not leaving things completely hopeless, here is an interesting take on "How Tech is Not Ruining Your Mind" .  Love the discussion of "cognitive diversity" and how adults, along with kids, should not spend all their time on screens.
I don't care if I sound like an oldster when I say that so much of this truly makes me grieve for many young people and the culture.  But it also increases my desire to pray for their spiritual, physical and emotional safety and well-being. What I like so much about The Big Disconnect is that it didn't leave me depressed, but hopeful about making a difference.
What about you? Are you hopeful or depressed about the state of culture and online life?