Here is my interview with Randy Hain, author of the new book Along the Way: Lessons for an Authentic Journey of Faith. Longtime readers will recall that I reviewed Randy's first book The Catholic Briefcase: Tools for Integrating Life and Work and that I had a Q&A with him back then.  Randy is really prolific as a recent convert; he gives us cradle Catholics inspiration to really live our faith and integrate it into all we do.  Thanks, Randy!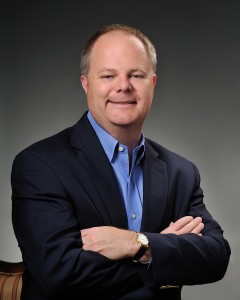 Q.  Tell Reading Catholic readers a little more about you, your work and your writing.
Thank you, Nancy for the opportunity to do this interview!
In my professional career, I am the Managing Partner of Bell Oaks Executive Search in Atlanta and actively serve on a number of non-profit boards in the Atlanta community. I am the Senior Editor for The Integrated Catholic Life eMagazine which I co-founded with Deacon Mike Bickerstaff in 2010.
I am also am a co-founder of the Annual Atlanta Catholic Business Conference, the Catholic Business Cafe and lead the St. Peter Chanel Business Association (Faith at Work) Ministry. I am a writer and frequent speaker on a number of topics including faith, family, fatherhood, work/life integration, authenticity, leadership and human capital.
My first book was The Catholic Briefcase: Tools for Integrating Faith and Work, and it was released in late November 2011 by Liguori Publications. The book provides practical advice on how to integrate the Catholic faith with our work and offers inspiration through the examples of real Catholics in the workplace. The Catholic Briefcase was voted the Best Catholic Book of 2011 in the About.com Catholicism Reader's Choice Awards.
My second book, Along the Way: Lessons for an Authentic Journey of Faith was published by Liguori Publications in November 2012. My third book, "Something More: The Professional's Pursuit of a Meaningful Life" was released on February 23rd, 2013. My family and I converted to the Catholic Faith in 2006.
My wife Sandra and I have been happily married for 18 years and we have two sons, Alex and Ryan.
Q.  How is Along the Way a different book than The Catholic Briefcase?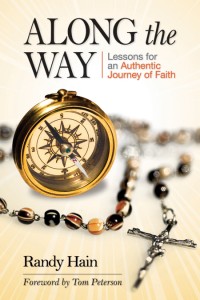 My first book was very focused on the integration of our Catholic faith with the workplace. Much of my ministry work in the Church has focused on this topic since I became Catholic in 2006. Along the Way is distinctly different. I have long desired to chronicle my faith journey as a Catholic and this book captures what I have observed, experienced and struggled with since joining the Church.
In Along the Way, I took on the role of a "pilgrim" sharing in a very candid way what it means to aspire to an authentic Catholic life in today's world. Based on the feedback we are receiving from around the country, this message is really resonating with readers.
Q. I appreciated your openness about your faith journey, your family, and other struggles in Along the Way. Was this new for you?
I am very open about my life and try to be as transparent as possible. I find that one of the best ways we can share our faith and have a positive impact on others is to let them see the light of Christ in us and let them know who we are, where we have been and where we are going with regards to our faith. This openness has accelerated for me since I experienced a profound personal conversion in 2005, which I discuss in the book.
Before that time, I was very compartmentalized and kept walls around the different parts of my life. Surrendering to Christ and joining the Church has broken down these walls and allowed me to lead a truly integrated life with Christ first, family second and work third on my list of priorities. I feel very blessed to be Catholic and enjoy sharing my faith with the people I encounter each day.
Q. Were you a writer or author before you became Catholic?
You might want to list this under "minor miracles", but I never wrote a word for publication until I became Catholic! I have always read a great deal, but outside of college term papers I never wrote anything of consequence.
After joining the Church at the age of 40 and essentially embarking on a new life, I felt the need to share my experiences and observations. This desire has tapped into a passion I have developed for writing and I am fortunate to have had dozens of articles for both business and faith published over the last few years. I am a disciplined writer and this has allowed me to write a weekly blog for the Integrated Catholic Life eMagazine I co-founded and write three books over the last two years while running a business and being very involved in my active family.
The secret for me is getting up every morning at 4:00 am to pray and write before I start my busy day. It also helps me to stay focused on writing for His glory and not my own.
Q. You have another new book coming out this spring. Share with readers here about that, and any other upcoming projects. What's next for you?
My third book, Something More: The Professional's Pursuit of a Meaningful Life, was released in late February. This book captures my experiences interviewing professionals over the last 20+ years (I run a national recruiting firm). These interviews have a consistent thread running through them which I describe as the person's desire to find more out of life than simply work.
I coupled my observations with interviews I did with twenty business men and women around the country who are pursuing meaningful lives. The result is a road map of sorts which provides a very candid and authentic path to a life filled with meaning and purpose.
Faith is certainly part of the book, but I interviewed people from a variety of faith backgrounds. The result is an ecumenical and honest treatment of the "meaningful life" issue most professionals face at some point in their lives. The early feedback from readers is very encouraging as people seem to have been looking for a book that addresses this topic.
Also, I am working on a book about being a Catholic dad which I hope to complete for a Spring 2014 release. I have also been recently invited to become a contributing writer for the National Catholic Register which is exciting.
Q.  Is there anything else you wish I would have asked, or would like to share?
I feel blessed and am grateful for our Catholic faith. I hope the small efforts I am making will inspire other Catholic lay people to recognize we can all make a positive difference in the lives of those around us. The New Evangelization begins with our own pursuit of holiness and a desire for our Heavenly home.