Following is my e-interview with Monsignor Richard Soseman, author of Reflections from Rome: Practical Thoughts on Faith & Family.  Reflections from Rome was the book I reviewed in my September column for The Catholic Post.
As I mentioned in my review, and as regular readers of this blog will recall, Monsignor Soseman and I have been friends for a long time, even pre-dating his friendship with the esteemed Brandon Vogt.  You can read all about that here.  So we had fun here in this interview.  Thank you, Monsignor, for being such a willing interview subject, and for letting me compare your book to eating tapas. Since you've spent a lot of time in Spain, I thought you wouldn't mind.

Local readers will want to know that Monsignor will be doing a book signing at Lagron-Miller Company in Peoria on Saturday, September 14 from 11 a.m. to 2 p.m.   Our family will be stopping by!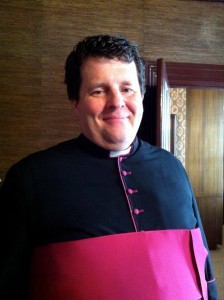 Monsignor, tell "Reading Catholic" readers more about yourself and your work.
I am a priest of the Diocese of Peoria, ordained in 1992. Since January, 2008 I have been an Official of the Congregation for the Clergy at the Vatican.
Q. This book grew out of the "Faith" posts that you've been sharing on Facebook for some time. How/when did you start doing the Facebook reflections, and how does the book differ from those?
During the Year for Priests (2009-2010), we started an online group called "I Will Offer My Lent for Priests." The Congregation for the Clergy tries to stress how important it is to pray for the sanctification of priests. For that group, I began to write a daily reflection, and have continued that practice since then.
In the book, then, I have collected and edited articles and essays I have written for various media.
Q. As I wrote in my review, I found your book to be like "tapas" those Spanish appetizer-y dishes. When I saw this quote in the "tapas" wikipedia entry: "The serving of tapas is designed to encourage conversation because people are not so focused upon eating an entire meal that is set before them."
Do you think that is a good analogy for what you are trying to accomplish?
I would say it is a good analogy. My hope is that, in reading the short meditations, people will be inspired by the Holy Spirit to discover ways in which they can live more faithfully. Each reflections starts with an image, an example from my family life, from Church history, or an experience I have had in Rome, which then remind us of some element of the spiritual life or some element of faith. So many people have let me know that the examples I make resonate with their own experiences, and have encouraged me to collect them into a book, I was happy to do so. Sometimes what I write about seem to be non sequiturs, sometimes humorous images or contradictions and then all is resolved in the example from the faith.
Q. Do you have a favorite reflection shared in the book? I marked probably a dozen, but "Ligonberries" and "Whether, Weather, Wither" were two of my favorites.
Ha! I should have expected a Weather Channel junkie like you to enjoy the latter reflection. Some people who I call "weather junkies" in the essay will change all of their plans based on what they think the weather might do. I encourage people who are living faithful lives not to be to scrupulous or overly concerned about past decisions they have made, but to look forward to living in fidelity into the future. In the former essay, I use a humorous point about Italian language to remind people that we should want to get to know all we can about God, because we love him and as humans we are driven to know all we can about the object of our love.
Q.  Can you talk more about your work at the Vatican and what your office does?
The Congregation for the Clergy assists the Holy Father in supervision of Priests and Deacons throughout the world. The "Year for Priests" was our project, as was the recently revised "Directory for Life and Ministry of Priests." As an Official, I study the issues assigned to me by the Superiors, and make my recommendations on what action the Congregation might take in the situation, if any.
Q.  What is next for you? Do you plan to write another book?
Over the last several years, I have written prefaces for several books, and will probably continue that work. Also, in Princeville we published the "Princes Prayer Book" for teens, which I continue to hand out to American teenagers who are visiting Rome. I also write essays for a cycling website in season, and have been asked to collect those essays, as well as more reflections on faith.
Finally, I am working on a book on Venerable Fulton J. Sheen. My main work remains, of course, at the Congegation, and I also teach college students a course on St. Paul, and work with liturgy at the Pontifical North American College.