Today, I'm sharing an interview I did recently with Julie Kelly, author of a new Catholic children's book called Clare's Costly Cookie.  It is very sweet, and reminds me in some ways of Nancy Carabio Belanger's Olivia and the Little Way, but for much younger readers.  I was especially interested in Julie' connection to Father Antoine Thomas, who now lives in New Zealand, but is well-known to Peoria-area Catholics from his many years at the Community of St. John priory in Princeville.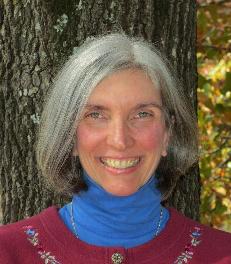 Julie, tell Reading Catholic readers more about yourself, your family and your writing.
Thank you, Nancy, for inviting me to share with your readers. I am a 46-year-old wife and home-educating mother of six children – four sons and two daughters ages 1 to 16 – in Arkansas. I have a BA in English, and before my marriage 17 years ago I used to travel throughout the U.S. directing and emceeing Eucharistic-centered retreats for young people. Since then my faith and my family have been my greatest joy.
As far as my writing is concerned, I never intended to write a children's book. Approximately four years ago I began writing a handful of engaging stories to help my strong-willed daughter better understand some truths of our faith, with a young girl like herself as the main character. I wanted my daughter to experience this young girl's transformation from a self-absorbed child to a faithful follower of Jesus. And I wanted this girl to be REAL, with faults, and failings, and I wanted her to meet Jesus – to get to know Him personally – and to offer Him her heart at any cost.
After seeing the extremely positive response of my children to my writing (and not just because I'm their mother!) the idea occurred to me that these stories of struggle, perseverance and surrender could possibly help other young hearts discover the transforming power of Christ's love and the joy of living the holy Catholic faith. From that point forward I wrote the rest of the story in prayer to the Holy Spirit and Mary for guidance. This is how the plucky character Clare, a nine-year-old thunderbolt in pigtails, developed and how Clare's Costly Cookie: A Young Heart Discovers the Way of Love came into existence.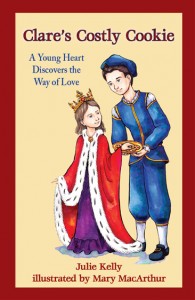 I notice that one of the blurbs on the back of the book was from Father Antoine Thomas, a priest beloved and well-known in our diocese. What is your connection to Father Antoine and the Community of St. John?
I first met the Brothers of Saint John before I was married, when I was emceeing and directing Eucharistic retreats for young people across the U.S. The Brothers would preach and lead the young people in prayer at some of the retreats. This is how I came to know them. Although I have never met Father Antoine personally, when I wrote the book I sent him a copy of the manuscript and asked if he would write the Foreword because he has given so much of his priestly ministry to helping young people draw close to Jesus in the Eucharist. After previewing the book he agreed to contribute the Foreword, for which I am extremely grateful.
I found Clare's Costly Cookie sweet and gentle for younger readers. What is your intended audience and how do you see young readers interacting with it?
My intended audience is children between the ages of 5 to 10 or 12, although older siblings have been caught listening over shoulders to the story, often with a chuckle. Young readers are interacting with the story in a beautiful and spiritual way, with hearts that are open to the gentle invitation to draw closer to Jesus. They have shared with me that they like learning a lot about the faith and prayer, while finding the story fun to read and identifying with the main character, Clare. Some of the topics addressed in the book are obedience from the heart, sibling relationships, selfishness, the Mass and Holy Communion, and surrendering the self-will – challenges that children face every day as they strive to live their faith.
An 11-year-old girl shared, "It helped me talk to Jesus, and I am talking to Him more. I think it is a funny and prayerful book at the same time." As well as younger readers, I have been joyfully surprised that the book is speaking to the hearts of adults as well, parents and grandparents alike, who are open to the invitation to draw close to the Heart of Jesus like a child. The book is deeply spiritual, joyfully Catholic, and refreshingly contemporary – a combination that seems to be agreeing with parents and children alike.
The book is delightfully illustrated by a young lady named Mary MacArthur, an illustrator in Houston, Texas. Mary used her considerable talent and spiritual sensitivity to give the illustrations depth and feeling, capturing the heart of the scenes for young readers to enjoy. The book, 112 pages softcover for $9.95, is available online through Sacred Heart Books and Gifts, Catholic Heritage Curricula, Seton Home Study School, Holy Heroes, and Nativity Press.
What is next for you? Any more books or writing projects you would like to share?
Because Clare's Costly Cookie is being so well-received and I have had requests from readers for more Clare books, that is the direction my prayer is taking – a continuation of Clare's journey towards a closer relationship with Jesus.