Fourth in my 7 posts in 7 days. More than halfway finished!

As I did on Tuesday with Kendra, I'm joining in with a link-up with another blogger who will be at the Behold Conference this Saturday.  Linking up with Like Mother, Like Daughter's weekly "phfr" posts "capturing the contentment in everyday life" since one of the "daughters," Dierdre Folley, will be a speaker at Behold.  I am looking forward to the conference and meeting Dierdre, if I ever get through a week of blogging.  I have to say both that it is super enjoyable to do all the link-ups and post each day, but I'm finding it much more involved  and much more time-consuming than I thought.
pretty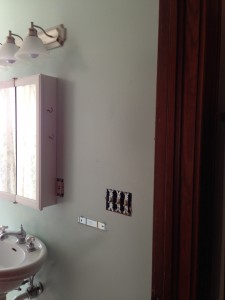 I've been meaning for months to paint an upstairs bathroom.  We've had ideas, paint chips, paint samples, etc.  Finally, today two  of the kids helped me paint three of the five walls in this room. (I took this one-or-more-walls-at-a-time idea from a dear friend, who's been posting Facebook photos of the transformation of their old house, one wall at a time, instead of whole rooms at a time).  I am so grateful for the idea, as we were tiring after two walls, and it was nice to be finished with the project for today.  I love the color.  It's called Tranquility.
happy
I know everyone is sick of the snow–we're expected to get two more snowstorms this weekend.  And I guess I have to admit I'm pretty tired of winter, too.  But this has been a TERRIFIC winter for cross-country skiing, something we've done many times more this winter than the other two winters combined since we've had the skis.   We discovered this year that a group of volunteers grooms trails at a local golf course, and we went there many times.  The silver lining of more snow is perhaps another time or two to get out the skis.  Sorry all you people pining for 80 degrees.
Our family has loved having a second dog (just for one year, while his family is abroad for a work adventure), in addition to our wonderful English shepherd.  Our "borrowed" dog, is a Yorkie-poo who has convinced us that a small dog is in our future, both to keep us and our medium-sized dog company when this little guy leaves.
So the 13-year-old at our house is fond of sewing (in addition to creating graphics for my blog), and has made the Yorkie-poo several outfits, including a reversible coat that is adorable.  She decided for some unaccountable reason to make him a Santa suit this week, and it is a.d.o.r.a.b.l.e.
real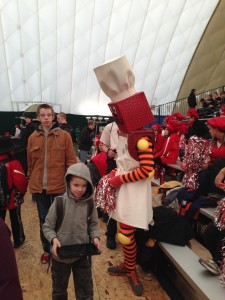 I promise you, I believed I took a photo this morning of the deplorable state of our "multi-purpose room" which houses school books and supplies, my desk, the treadmill and assorted other stuff.  I've been meaning to work on it, and so little has happened there, and it's definitely "real."  But after driving many miles today, painting, cooking, etc., and all my other "getting things done"  I am not getting up from this living room chair right now for anything until I post this.
So I found instead a photo I snapped today at my high-school daughter's robotics competition. I thought I was in geeky heaven today when we spent a few hours there today, seeing all the costumes, robots, and watching the practice matches of robots battling and throwing giant balls on the "field."  So.much.fun.
The "real" part was as the younger kids and I were leaving, and my 10-year-old was not thrilled with the idea of walking past this mascot (we're not in this photo) from one of the teams. I had joked before to both the kids each time we saw one, "Hey, maybe he wants a hug!"  We are not huge mascot fans.  But we made it past this guy without even so much as a high-five, as he was busy giving a high-five to the person in front of us.