Picture Book Monday starts today.  I explain about it here.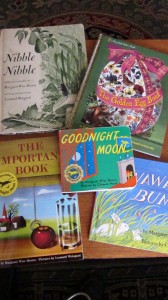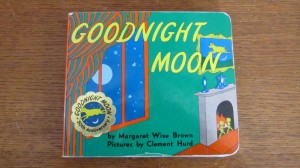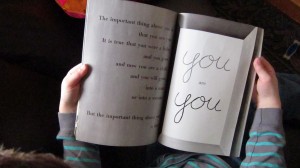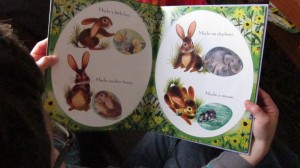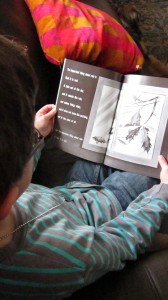 Years ago, a friend's dear young daughter–about two years old at the time– was hospitalized for a life-threatening infection. I went to visit the family in the hospital, and the little girl was just so forlorn, so small on the hospital bed.
So I told her hello, and I asked if she might like a story (and mentally berating myself for not bringing a book as a gift).
She didn't respond.  So I closed my eyes and began:
In the great green room
There was a telephone
And a red balloon
And a picture of
the cow jumping over the moon
I knew the book by heart–surely I'm not the only parent out there who's been asked to read a book so many times she can do it cold–and continued.
When I finished, her eyes were big, and they never left me.
"Would you like me to read it again?"
A nod.  And so I did.
The next day, I brought her mom her very own copy of Goodnight Moon, probably Margaret Wise Brown's best-known and loved book.
If there is a more soothing bedtime story, I'd like to know what it is, so be sure to let me know in the comments.
Here's what I love about Margaret Wise Brown at her best: she is a poet.  Her words often read like prayers.  There is humor and poignancy in her work.
She died very young and had an interesting and in some ways tragic life. I've got her biography, Awakened by the Moon, on hold at the library, and I will update this post after reading that. But regardless of her life, her books stand the test of time and reading aloud.
Most people will be familiar with Goodnight Moon and another of our favorites, The Runaway Bunny.
Our funny family story about The Runaway Bunny is that when I read it to my oldest, a girl, she insisted (as only an oldest, and a toddler–can) that the child bunny was in fact a girl bunny, no matter what the words said.  So that I had to substitute "she" for "he" and "her mother" for "his mother" and so forth throughout.
We stuck with our female runaway bunny until our third was born, and then he (being a strong personality) insisted it was a boy bunny, so back the original.
One of the most moving scenes in the play Wit (not for kids, but made into a beautiful movie with Emma Thompson in the main role of a demanding English professor dying of cancer) is when a visitor, her former mentor, reads her excerpts from The Runaway Bunny.
This may seem depressing, but that scene makes a person realize that The Runaway Bunny would not be a bad book to have read on one's deathbed.
But I can still think of a better book for that purpose: MWB's The Important Book, illustrated by Leonard Weisgard.
I almost always get emotional when I read The Important Book, for many reasons. It's a prayer and a poem both, and Weisgard's illustrations make it nearly perfect.
The frontspiece begins with a tiny illustration of a open book. On the right-hand side of the tiny open book is an illustration of a cricket. On the left-hand page are the words in cursive:"The important thing about a cricket is that it is black. It chirps, it hops, it jumps, and sings all through the summer night. But the important thing about a cricket is that it is black."
And the book continues this way, though with full-size illustrations in the rest of the book. What makes—a spoon, an apple, the wind, the grass, a child's shoe, much more, and finally, you–important.
I was so taken by this book that eventually, I made a "Grandpa and Grandma Important Book" for my in-laws. Each page of this scrapbook was about what made Grandpa or Grandma, their children and grandchildren important, with accompanying photos. ("The important thing about Grandma is that she makes the best chocolate milk.")
I made it just before my father-in-law passed away, and now that both my in-laws are dead I treasure this "Important Book" as a family heirloom; it's alongside our copy of The Important Book. And now I wish I had made one for my parents, but that one is in my heart.
Two other MWB books are well worth having. The Golden Egg Book is another nearly perfect bedtime book–perhaps especially during the Easter season–about both friendship, sleepiness, and adorable lifelike bunnies. Lovely illustrations by Leonard Weisgard again.
Finally, Nibble, Nibble: Poems for Children is sweet, and would be worthwhile to consider reading during April, National Poetry Month.
We've read many, many other Margaret Wise Brown books at our house, and we own probably half a dozen more book by her, but these are the ones I'd keep no matter what:
Goodnight Moon
The Runaway Bunny
The Important Book
The Golden Egg Book
Nibble, Nibble: Poems for Children
Do you have a favorite Margaret Wise Brown book?