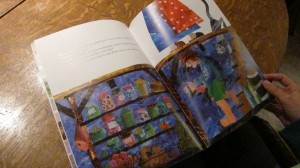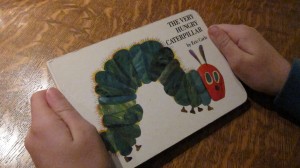 The first thought I have when someone says Eric Carle is, "I could go for some pancakes right about now."
That's because probably my favorite Eric Carle book is Pancakes, Pancakes!
This book tells the story of a very hungry boy named Jack, who wants some pancakes for breakfast, and his mother sends him to collect the ingredients. Not just from the fridge, but from the farm.
So he collects wheat, then mills it, then collects the milk, eggs, churns the butter, and so forth.
Hungry yet? You will be when you see the creative tissue-paper illustrations, replete with melting butter, jam, and fluffy pancakes flipped on a griddle.
I always crave pancakes after reading this book, and I'm not a big fan of pancakes. And I'm happy for Jack when he finally gets his well-deserved pancakes.
Probably the main reason I like Eric Carle's picture books is that his art is very soothing. Carle illustrates his books using painted tissue papers that he cuts into different collages.
Many years ago, I bought a Klutz book called, "You Can Make a Collage" by Eric Carle. I see it's no longer available new. That's too bad, as while the associated book describes how he makes the tissue paper and his collage illustrations, even better was that the back of the book included 50 or so sheets of printed versions of the painted tissue papers he uses were attached to the book.
Over the years we've made many collage prints using those tissue papers.
For a person wanting to do some art in the style of Eric Carle–and I highly recommend you do so if you enjoy Eric Carle–visit the "Creative Projects" page of Eric Carle's website  for some slideshows describing how he makes his materials, as well as the art. This kind of project would be fun and satisfying for an arts-minded kid (or mom!) to do on his or her own, over the course of a week or so.
Creating the painted tissue paper would be messy, but after that step, this is a pretty low-mess art project, as it just involved cutting and gluing the scraps of tissue to paper.
Other books by Eric Carle:
*The Very Hungry Caterpillar
In the light of the moon a little egg lay on a leaf.
One Sunday morning the warm sun came up and pop! out of the egg came a tiny and very hungry caterpillar.
Yes, once again, another book I can recite with my eyes closed because I've read it so many times.
Since the The Very Hungry Caterpillar was one of the board books that our family was given when I had my first baby, it has seen many, many readings. I'm pretty sure our first copy did not survive a teething (and or hungry?) baby, and so we have another well-worn copy of this fun board board. And true to Eric Carle's style, it makes me hungry.
Eric Carle is prolific, but two other books that have been especially popular at our house: The Tiny Seed and A House for a Hermit Crab.
I knew that I liked Eric Carle, but was excited to find out that he and his wife created a museum of picture book art makes me even more grateful for him.  I'm already (in my mind, of course) planning a trip to Massachusetts to go to the Carle Museum. Our family has seen several exhibits of picture book art at the Art Institute of Chicago, but an entire museum to explore–wow.
I've also had fun exploring Eric Carle's charming blogspot blog.
Four years ago, on the 40th anniversary of The Very Hungry Caterpillar, the Google Doodle was Eric Carle inspired.  Nice.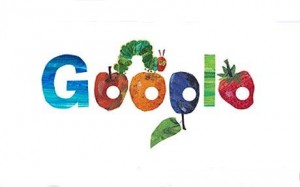 Do you have a favorite Eric Carle book?