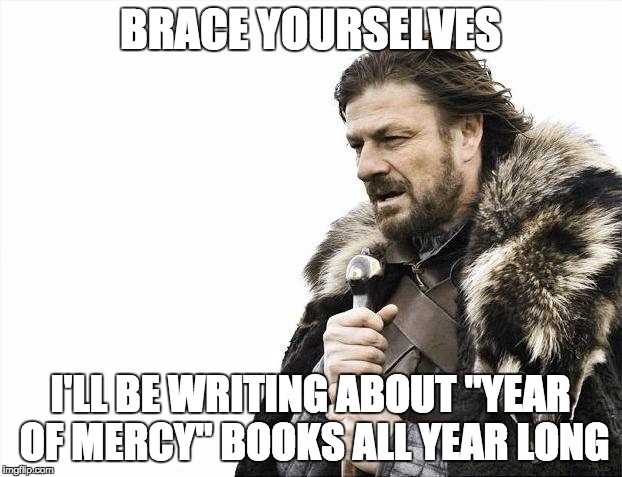 This month's column for The Catholic Post is one of my series this year on "Year of Mercy" books.
=================
One of my favorite songs of the band Popple, the self-described "Catholic acoustic humor folk beard rock duo" is called "Pencil in the Hand," and it is based on the quote of Mother Teresa.   
That's why I was dismayed to read that it was a "significantly paraphrased" quote of hers. Could this be true?
I am the first one to be skeptical of quotes attributed to famous people.  (And a Peoria diocesan priest, Father Geoff Horton, has a clever blog to debunk such "fauxtations"). That's summed up in a clever t-shirt in the gift shop the Peoria Airport gift shop: an image of Abraham Lincoln and the words "Don't believe everything you read on the Internet —Abraham Lincoln."
It looked a little something like this: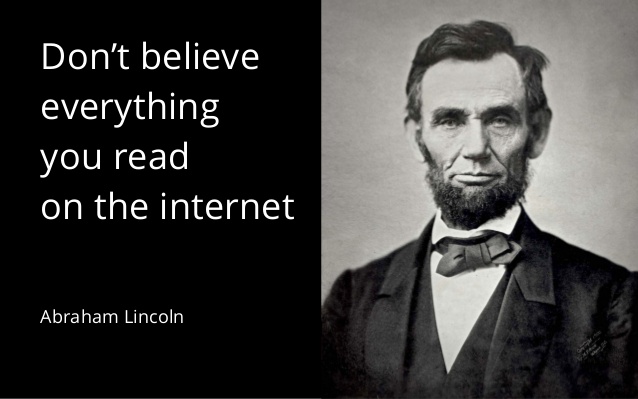 But this Mother Teresa one seemed true, and it also had a song to go with it. A little more digging (thank you, Internet) discovered that she did say the essential lines of the quote.  In a 1989 Time interview, Mother Teresa said:
"I'm like a little pencil in His hand. That's all. He does the thinking. He does the writing. The pencil has nothing to do it. The pencil has only to be allowed to be used."
It's so interesting that Mother Teresa, who was canonized on September 4 (earlier this week), used a writing imagery to describe God's work in our lives.  One of her earlier books is a day book published in 1986 and titled, Jesus, The Word to be Spoken: Prayers & Meditations for Every Day of the Year.
Yet what's most compelling about Mother Teresa is not the words that she spoke, but the way she lived her life in service to the poorest of the poor.
So why read a book about her life? Two reasons: one, to understand the context in which she lived her vocation and her love of Jesus, as well as the Gospel message, and two, to be inspired to live that out in some way in our own lives.  Mother Teresa in many ways symbolizes the works of mercy, and so it's particularly appropriate that she is being canonized towards the end of this Jubilee Year of Mercy.
An important new book stresses this mercy perspective in her life.
A Call to Mercy: Hearts to Love, Hands to Serve, is edited and with an introduction by Brian Kolodiejchuk, MC.
As Fr. Kolodiejchuk, the postulator for the cause of her canonization, writes in the introduction: "In Mother Teresa 's life, as in the lives of many saints, we are offered a lived theology."
This "lived theology" is evident in A Call to Mercy, as each of the 14 chapters is titled with the work of mercy, both corporal and spiritual.  For each work of mercy, the chapter offers five elements: a short introduction of how Mother Teresa lived the work; a section of "her words," including excerpts from speeches, letters, and interviews; "her example: the testimonies" with numerous quotes from those who were involved in her work, from fellow Missionaries of Charity and others; a reflection for personal use; and a prayer, which are chosen from prayers that Mother Teresa  had a devotion to or herself wrote.
A Call to Mercy is a treasure for any reader who would like to understand Mother Teresa and her work better, as well as contemplate her life and the ways in which an "average person" can live those out.  It's also an excellent way to continue a focus on mercy as the Jubilee Year of Mercy enters its final months.
I have enjoyed and read many other books by Mother Teresa and about her, and I could fill a year of columns with excellent sources.
But to celebrate her canonization this month, I recommend three other works that capture her life, her personality, and her spirituality in total.
First is the award-winning 1986 Mother Teresa, the finest documentary or video of any kind about Mother's life or work.  It was produced by sisters Ann and Jeannette Petrie, and has never been equalled for impact or beauty. 
Second is the coffee-table book, Works of Love are Works of Peace, by photographer Michael Collopy. The 1996 book has been recently republished in an affordable softcover, and contains dozens of luminous photos of Mother Teresa, her homes around the world, and the people she and her community serve.
Third is the small volume by British writer Malcolm Muggeridge, Something Beautiful for God.  It is a beautifully written and captivating portrait of Mother Teresa's life, as well as Malcolm Muggeridge's own faith journey as a recent Christian. When he wrote the book in 1971, he was not yet Catholic, but a recent Christian, having lived most of his life as an agnostic.  The shortness of the book and simple vignettes of her life make it a classic.