Here is the December featured "Reader" that appears in the most recent print edition of  The Catholic Post. I've known Sister Veronica for a long time, and I so appreciate both the chance to hear about the books she loves and her willingness to be featured here.  Thank you, Sister!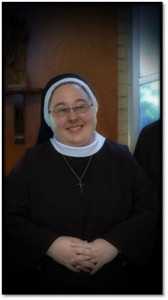 How you know me:
 I am a member of The Sisters of the Third Order of Saint Francis in East Peoria. Our Apostolate is healthcare. We sponsor OSF Healthcare. You may have seen me at the hospital, The Cathedral of Saint Mary of the Immaculate Conception, or at one of the local parishes.
Why I love reading:
 For me, reading is both educational and enjoyable. I love to pick up a book and learn something new; whether that be a subject completely unknown to me or something that I know a little about, but want to dig deeper into. I also love to read because it has a way of expanding my worldview, and challenging my thoughts and feelings about a particular subject or person. I inherited my love of reading from my mom. We both have a tendency to have multiple books started at any given time.
What I'm reading now: 
Mother Angelica's Little Book of Life Lessons and Everyday Spirituality by Raymond Arroyo. I just started reading it but I just love the practical, no-nonsense advice she gives on deepening your spiritual life. I have also read Arroyo's biography of her, Mother Angelica: The Remarkable Story of a Nun, Her Nerve, and a Network of Miracles. Both books are absolutely worth the read and I highly recommend them.
2.   Pope John Paul Speaks to Religious 1981-1982, Book II by Pope John Paul II
Absolutely beautiful transcripts of Blessed John Paul II's talks to religious when visiting near and far. He had such a beautiful way of affirming religious, and at the same time calling us to authentic renewal. It is just as relevant and powerful today as when he spoke those words.
My favorite book:
The Way of Divine Love by Sister Josefa Menendez. This book is her spiritual diary; it's the story of an amazing soul through whom the Lord chose to communicate His love to the world. I really don't have many words to explain why it is my favorite, but I do know that it is one that I will read over and over.