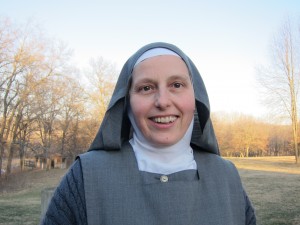 How You Know Me: I'm originally from Lorraine, France, but I've lived in Princeville, IL, for 6 months as part of the Apostolic Sisters of St. John.  The Apostolic Sister are based in Burgundy, France, but we have just opened a house here in Princeville, IL. I've been a sister for more than 22 years.
Why I love reading: I have always loved reading. When I was a child, I would leave a book in each room around the house. That way, whatever room I would go into, I would be sure to find a book I had started. Reading is great because it is like traveling. Reading adds flavor to life, like adding salt in a dish.
When I was a kid, I loved real stories about people in different cultures and times. I enjoyed reading the "Little House on the Prairie" books. I loved to also see how people look at life, and I've always enjoyed discovering how other people look at life.
What I'm Reading Now: As a community, we read at table. We take turns reading aloud from the book at meals, and it's a very good way of nourishing ourselves all together. When we have times of recreation among the sisters, we share what speaks to us about we heard being read.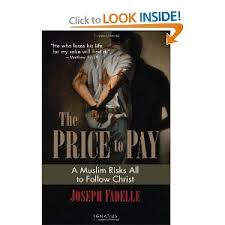 These days, we are reading The Price to Pay: A Muslim Risks All the Follow Christ by Joseph Fadelle. It's an amazing book because it's like a thriller. It's the true story of a Muslim who converts to Christianity. Our sisters have a personal connection to him, because he lives in France, and his children have attended programs with the Community of St. John. Reading a story like this book rekindles one's own faith.
My Favorite Books: I have many favorites, but two books that I always come back to for a sense of renewal and freshness.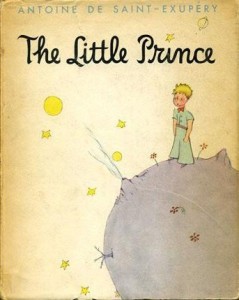 The Little Prince by Antoine de Saint-Exupéry has been a favorite since I read this book in French, of course, but I've always loved it. I first listened to it as a girl on car trips with my family. And we put on a play of it when I lived with the Sisters in the Phillippines, and also in Taiwan.
I love The Little Prince because it is so incisive about the truth of relationships and friendship and how to be truly human. Also, the ideas in it are accessible even to those who do not share our Catholic faith.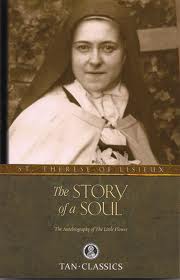 My other favorite book is The Story of a Soul by St. Therese of Lisieux. She is simply writing the story of her soul, but everything she writes is so true. She has such a keen way of looking at her own heart and the way God is working in her life.
In every little event of her life she takes a deep meaning, and describes how any small gesture can be vitally important. Our lives can seem small, for instance here in our convent, but St. Therese has a way to look at these small things with such depth. St. Therese shows us that everything can be looked at as an encounter with God; nothing is neutral in our lives.
Here is a quote from The Story of A Soul that particularly spoke to me: "Considering the mystical body of the Church, I had not recognized myself in any of the members described by St. Paul, or rather, I desired to see myself in them all. Charity gave me the key to my vocation. I understand that if the Church had a body composed of different members, the most necessary and noble of all could not be lacking to it, and so I understood that the Church had a Heart and that this Heart was burning with love. I understood it was Love alone that made the Church's members act, that if Love ever became extinct, apostles would not preach the Gospel and martyrs would not shed their blood. I understood that Love comprised all vocations, that love was everything, that it embraced all times and places … in a word, that it was eternal. Then, in the excess of my delirious joy, I cried out: O Jesus, my Love…my vocation, at last I have found it… My Vocation is Love!"