Following is the "Meet a Reader" feature that appears on the book page of the current print issue of The Catholic Post.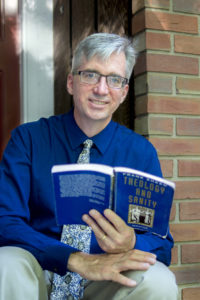 How you know me: As a homeschooling father of four beautiful daughters and a particularly lovely wife, Deanna, I tend to blend in to the background. However, I am a member of Epiphany Parish in Normal and meander to ISU's Newman Center and Historic St. Patrick's for an occasional daily Mass. I am employed as a graphic designer by Illinois Wesleyan University.
Why I love reading: A seeker and lover of truth, my mind is invigorated by succinct Catholic theology and testimonials. Alas, it often seems easier to aspire to greatness via learning what it looks like abstractly rather than through personal experience, but I am hedging that it is helping me grow in sanctity, at least theoretically. I apply the same principles to healthy living, and enjoy reading about cooking, nutrition, the environment, etc., to help me make appropriate choices.
What I'm reading now: After struggling through Pope Saint John Paul II's "Theology of the Body" a few years ago, a refresher was in order so I picked up Love and Responsibility, written before Karol Wojtyla became Pope. Our secular society has many illusions about gender, intimacy and personal freedom, but JPII has given us a framework in which to better explain God's plans for our identity, relationships and ultimately finding true happiness.
In my car I am listening to an audiobook entitled First Bite: How We Learn to Eat by Bee Wilson. The premise of the book is to help our children develop good eating habits and tastes, as well as unlearn our own biases that are keeping us from the pleasures of simple, whole foods.
My favorite book: The title speaks for itself: Theology and Sanity by Frank Sheed. After spending the first 23 years of my life semi-catechized, a series of events pricked my latent Catholic curiosity.  This book was instrumental in me discovering and then developing a love of our Catholic faith. Sheed mixes theology with apologetics and real-world examples in a way that brings doctrine alive.