I'm delighted to share the book loves of Liesa Dugan's, this month's "Reader" in The Catholic Post. She's a fellow mom of teens and a fellow coffee lover.  I think the two must be connected, no?  I first met Liesa at the Catholic Press Association Midwest Meeting (I wrote about my experience there–you can click here to read that story).   At CPA Midwest, I really enjoyed Liesa's comments during a breakout session, and I've been glad to get get to know her a little better these past few months.  Thanks, Liesa!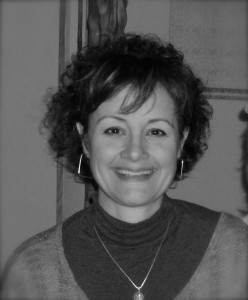 How you know me:
I am a long-time transplant to Peoria from the Chicago suburbs.  My husband Jim and I started our lives here in Peoria over 20 years ago: two of our three daughters were born here.
We've left Peoria twice, moving to South Bend, IN for five years and Beijing, China for a year; only to return to our adopted home of central Illinois.
I've spent a good part of my motherhood involved with the Elizabeth Ministry in three different parishes, most recently at our current parish, St. Jude in Peoria. The group continues to thrive and serve young moms in our parish today, thanks to the dedication and love of many of its members and newest leader, Anne Conway-Whitmore.
Most recently, I assisted renewed Catholic Charities in the Diocese of Peoria with their communications plan.
Why I love reading:
Growth, depth, knowledge, understanding, humor and comfort – I absorb all those gifts from the books I choose to read.  I have to admit, I am a very picky reader. I cannot count the number of books I've picked up, read a few pages and then abandoned. I really have to be grabbed by the content and the writer's voice to stay motivated to keep turning the pages.
What I am reading now:
Becoming Catholic, Again: Connecting the Faith We Were Taught with the Faith We Live By Catherine Wiecher Brunell. Wow, it's like the author and I went through a part of childhood together.
Sometimes I find books written by a person with their own faith story a little simplistic, but I was thrilled that Brunell managed to grab me with this story of an 'everyday mom'.  The depths of her writing about faith and spiritual awareness through her everyday living is similar to looking into the drop of the Grand Canyon!
She has clearly spent many hours of reflection and prayer before deciding to write this book about it.  Her writing also appeals to me because you can choose to hop around the book, not be bound to reading cover to cover.  This gives the reader the opportunity to discover and digest what might be thought-provoking to them at that moment.
My favorite book:
'Tis by Frank McCourt. Most know him as the author of 
Angela's Ashes, but I fell in love with McCourt tucked in the pages of 'Tis. The book started out with Frank entering this country as a young adult and the life he built upon his childhood struggles.
Even though most people know McCourt's more famous work Angela's Ashes, I have never read it. I tried to, but once I read this autobiography and learned how he moved past the childhood struggles of Ireland, I couldn't 'go back there'.   Just as I suppose, neither could he.
This book was responsible for giving me a passion and appreciation for well-written, challenging books at an adult level. It also challenged my Catholic faith which inspired me to explore it!