Following is the monthly feature that appears in the print edition of The Catholic Post, featuring a Peoria diocese reader.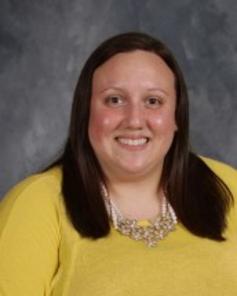 How you know me:
I teach Spanish at The High School of St. Thomas More in Champaign, and I teach first-year CCD at my parish, St. Matthew's in Champaign. 
Why I love reading:
For me, reading is like traveling (which I also love!).  I can learn about new ideas and perspectives, get to know interesting individuals, enjoy beautiful language, and unwind.  Above all, I love reading, particularly spiritual reading, because I can get to know Jesus better and His Church.  I love pondering over a passage before the Blessed Sacrament and asking Jesus what He wants me to know.    
What I'm reading now:

Diary: Divine Mercy in My Soul
 by St. Faustina. My friend and colleague Sr. M. Mercedes Diaz suggested I read this book and I'm so grateful she did.  I'm fascinated by St. Faustina's encounters with Jesus and all the graces and mercy He pours out to us.  A coworker is also reading this and so it is fun to discuss it with her.
My favorite books:

Story of a Soul: The Autobiography of St. Therese of Lisieux,
by St. Therese of Lisieux: I've been intrigued by St. Therese ever since I was a child.  Her child-like simplicity and approach to our Lord inspires me.  Reading it really kick-started my spiritual journey.  I find myself rereading many parts.

Trustful Surrender to Divine Providence: The Secret of Peace and Happiness by Fr. Jean-Baptiste Saint-Jure and St. Claude La Colombiere: This is a small yet mighty book.  It opened my eyes to what surrendering entails and how one can go about that.  God always provides!

When I Was Puerto Rican: A Memoir
 by Esmerelda Santiago.  This is a coming of age and American dream story of a girl who grows up in primitive conditions in Puerto Rico and later graduates from Harvard University.  Her storytelling is captivating and full of emotion, taking you in the "in between" of two cultures.