Following is this month's "reader" featured in the current issue of The Catholic Post.  Each month, I ask someone in the Peoria diocese to share the love of reading and books with four simple questions.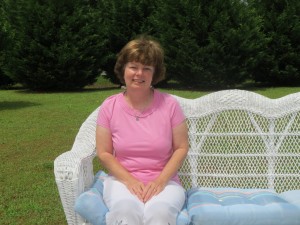 How you know me:  I am a member of St. Matthew parish in Champaign. I co-founded, with Fr. Johndamaseni Zilimu (recently been Assistant Pastor at St. Matthew), a group called Children of Hope and Faith (COHF). We help orphans and needy children in Tanzania, Africa receive a Catholic education. COHF also supports Angel Home Orphanage and funds specific projects to assist schools where children are sponsored. We are celebrating our 10th Anniversary this year and were very fortunate to be able to travel to Tanzania last November. It was such a pleasure to visit with all the children who are helped through our organization.
My husband, Michael, and I have been married for 28 years, and we have two grown children, Kathleen and Andrew, who grew up in Champaign and attended Holy Cross grade school and The High School of St. Thomas More. They both have lived at St. John Catholic Newman Center while attending the University of Illinois.
I also work part-time at C&A Inspirations, which is a Catholic book and gift store in Champaign.
Why I love reading: I love to read because it broadens my ideas and I am able to learn new things. I read mostly books on the spiritual life that inspire me to grow in my relationship with God and appreciate more fully our Catholic faith.
What I'm reading now: I am currently reading "Loved, Lost, Found: 17 Divine Mercy Conversions" by Felix Carroll. I like books on the Divine Mercy based on the Diary of St. Maria Faustina Kowalska. I am also reading "The Way of Trust and Love: A Retreat Guided by St. Therese of Lisieux" by Father Jacques Philippe.
My favorite books: My favorite books are "The Return of the Prodigal Son" by Henri Nouwen, "I Believe in Love" by Father Jean C.J. d'Elbee and "Searching for and Maintaining Peace" by Father Jacques Philippe. Books on the Eucharist (such as "7 Secrets of the Eucharist" by Vinny Flynn") are also inspiring to me.