Meet a Reader appears on the book page of The Catholic Post each month, and features a local Catholic who loves and reading.  Each "reader" answers four questions, and I love getting the chance to discover so many great readers and books.  I confessed to Gina–who I've enjoyed getting to know over the last year–that I was nervous about editing her answers for space for the print Post since she is such a gifted writer.  Thanks, for being willing, Gina!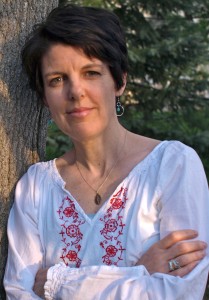 How you know me: Last year we relocated to Peoria from Chicago for my husband John's job at OSF. We have four children: Mary is a junior at PND, twins Peter and Thomas are eighth graders at St. Vincent de Paul, and Anne is in fifth grade at St. Jude. We are members of St. Jude's parish in Peoria. This past spring I graduated with my MFA in creative writing from Northwestern, where I also taught medical researchers how to write effectively. I am currently editing my thesis manuscript, a collection of essays on place and identity, into a book proposal. Wish me luck!
Why I love reading: When I was little my father built a window seat in my bedroom, and I would sit there for hours reading. My favorite books were the pale yellow Little House paperbacks. I imagined a kind of overlap between Laura's world and mine, calling the forest preserve behind the house my "prairie," for instance. I would get so deeply immersed in my books that my mother would sometimes kick me out of doors to go play. But the wide sky of unincorporated West Chicago seemed so much like Laura's sky, I didn't mind; I felt a continuity of experience in and out of the pages. I think this is why I love reading and writing: words form linkages between imaginations and times and places. When we feel a connection to a book—to a character or a setting or even a voice, we discover those common skies.
What I'm reading now:   I'm an essay junkie. Right now I am enjoying Sven Birkerts' collection called The Other Walk (what that man can do with his childhood memory of a plastic tape dispenser is nothing short of miraculous). For gourmet literary snacks, I love the online site called Brevity, which offers a feast of flash nonfiction in 750 words or fewer. The current issue boasts one of my heroes, Catholic writer Brian Doyle. I've just ordered his book called Grace Notes.
My favorite book: I studied medieval literature, so I have a great fondness for Chaucer's Canterbury Tales and works much earlier still. There's a remarkable Anglo-Saxon poem, "The Dream of the Rood," a fragment of which is carved on the 8th-century Ruthwell Cross. In a bold experiment with point-of-view, the poet invents a voice for the Cross (the "Rood") which becomes a character. It speaks as a courageous and faithful retainer, narrating the Crucifixion of his hero-Lord, Christ. I love to think about that poet, thirteen hundred years ago in some candlelit hut or dark monastery somewhere, suddenly inspired to re-imagine that scene on Calvary from a fresh perspective. I suppose my favorite books and poems and essays are the ones that help me see familiar things in a new light.