Following is the "Meet a Reader" feature that appears on the book page of the current print issue of The Catholic Post.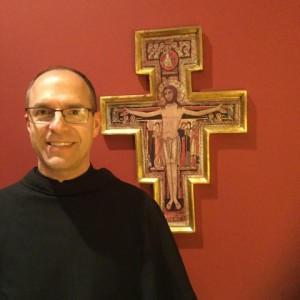 How you know me:
I am the (relatively new) Parochial  Vicar at Holy Family Parish and School (Go Crusaders!). Perhaps you may know of my award-winning cole slaw served at Holy Family's famous Fish Frys (mark your calendars for first Fridays during the school year and every Friday throughout Lent).  They say it's some of the very best cole slaw this side of the Illinois River….or maybe they said "this side of the Mississippi" (I told you I'm still new here and trying to get my bearings!!!).  Perhaps our paths crossed before I was ordained to the holy priesthood when I was a clinical social worker for 20 years working with children and families first in Ohio and then for the Department of Children and Family Services in Illinois.  But if we've never met and you see me out and about I sure hope you'll introduce yourself as I love meeting new people and hearing their stories.  Or, if you ever see me jogging down Sterling Avenue give me a honk and I'll be sure to wave!
Why I love reading:
I must confess, as a child I wasn't much of a bookworm because it was one of those "have-to-do" things.  But once I discovered that reading opens the mind and the heart to a world of possibilities, I was hooked.  
Whether it's a novel with a plot that engrosses all my senses (even to the point of losing track of the time!!!) or reading for general knowledge/information, reading is fascinating.  I never read so much so fast as during graduate school at Michigan (M-GO-BLUE) for my Master of Social Work degree.  That is, until I went back to school after 20 years for my Master of Divinity degree at Sacred Heart Seminary and School of Theology.  "So many books…..so little time" was the reality I faced both times in graduate school.  
Now it's good to be reading once again what I want to read.  I've also heard that reading helps keep the mind sharp…..and I'm needing all the help with that I can get!
What I'm reading now:
I find myself reading several books at a time.  Right now, I'm reading and meditating on Christoph Cardinal Schonborn's We Have Found Mercy.
 The message of Divine Mercy (as we understand it through Saint Faustina Kowalska) runs throughout Cardinal Schonborn's writing and his message of God's merciful love.  He takes the reader on a spiritual journey of God's mercy through the Sacred Scriptures, the life of Christ, the sacrament of mercy-which is confession, and the rich catechetical tradition of the "works of mercy" as well as how Christianity throughout history has become an "engine" of mercy in the world.  No literary work on God's mercy would be complete without considering Mary, the Mother of Mercy.  And Cardinal Schonborn shows us how we can be like Mary: touched by God's mercy, we become visible signs of His mercy for all people.
I am also reading Daniel Pambianchi's Techniques in Home Winemaking as I prepare to showcase Buona Ventura Cellars "Tarnished Halo Wines" — a St. Bonaventure Province Conventual Franciscan premier wine made right here in Peoria out of our friary basement.
My favorite book: 
The Return of the Prodigal Son by Henri Nouwen is by far my favorite spiritual book.  I have never heard God speak so clearly to me through it as I was coming back home to the Catholic Faith.  I still find it a treasured pearl of great price in my library as it continues to guide me back home to our loving Father's merciful embrace and the transformation that always awaits me there.