Following is the monthly feature that appears in the print edition of The Catholic Post, featuring a Peoria diocesan reader.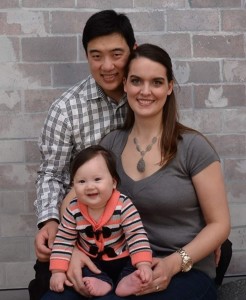 How you know me:
I'm a parishioner at St. Marys' Cathedral in Peoria, IL. I was blessed to start attending and serving Mass there when I was a sophomore at Bradley University. It is through the Newman Center at Bradley and the Cathedral that I met my husband, Phillip Lee. We were married in 2013, and last year welcomed our daughter, Elizabeth. In addition to being a wife and mother, I also work as a full-time nurse at St. Mary's Hospital in Galesburg, IL.
Why I love reading:
I love reading fiction mostly, and good books have become friends. When I read, I can instantly visit a new place, meet new people, experience different cultures, and even travel through time. My favorite books have the ability to inspire and challenge me to learn and grow into a better person. They have introduced me to characters that I admire and desire to emulate. When I read, my imagination can take over, and I can dream.
What I'm reading now:

I'm currently reading Little Women
by Louisa May Alcott, aloud to my husband and daughter whenever I get the chance.
Other frequent contenders in the "board and baby book" category include: Little Blue Truck by Alice Schertle, I Love You Through And Through
by Bernadette Rossetti Shustak, The Very Hungry Caterpillar
 by Eric Carle, and Five Little Monkeys Storybook Treasury by Eileen Christelow.

I am also (slowly) reading Fatima for Today: The Urgent Marian Message of Hope
by Fr. Andrew Apostoli.
My Favorite Book:
This is a tough one to answer. If I have to choose one, I would have to say Little Women. I can't even begin to remember how many times I've read it. I also love just about anything by Jane Austen, and Pride and Prejudice  in particular, is at the top of the list. I'm also a big Tolkien fan, and have been known to be addicted to the Star Wars universe.