Yesterday you may have read my interview with best-selling Catholic singer/songwriter Matt Maher (and if you haven't click here to read that).
Today is the back story behind it. This kind of "behind the scenes" stories have been popular here, as when I wrote about the CPA Midwest conference last year, and also when I wrote about the Mass for Venerable Fulton Sheen.
I found out relatively recently that Matt Maher was going to be performing in central Illinois, and thought about trying to get an interview with him for The Catholic Post.  Faithful readers of Reading Catholic will recall that I am a hugely unashamed fan of CCM (Contemporary Christian Music). Back in the summer, I featured Matt Maher singing at World Youth Day on "Worth a Listen." you can watch that video here, and prepare to be amazed.)
I considered at the time about trying to get an interview with Maher, or tried to think of ways that he could be welcomed here by local Catholics.
But normal crazy life intervened, complicated with some family health issues.  While I put the concert on our family calendar and made plans for us to attend, I didn't take the interview idea any further.
The morning of the concert, I was driving my older daughter and another girl to the local Catholic high school, and Jill and Jeremy Tracey of "Mornings with the Traceys" were interviewing Matt Maher and Meredith Andrews. Amidst the teenage excitement from the back, I thought, darn, he is doing local interviews, why didn't I arrange one?
That leads to another funny story about trying to arrange the interview in the morning, but it is a little long to share here.
In any case, after reaching out to my editor at The Catholic Post and deciding to go for it, I had determined by the afternoon there might be a possibility.  But I also wanted Matt Maher (or his "people") to know that I am a real reporter (not just a superfan, which is also true) and would be asking interesting and creative questions.  I also wanted to assure that I wouldn't take up too much of his time.
So I came up with five questions and tweeted them at him (he's @mattmahermusic), and expressed hope for the chance to interview him.
Success! Through Twitter, I got connected with a rep and we arranged to do it after the concert.
The concert was amazing.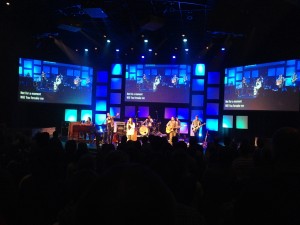 It was held at Harvest Bible Chapel in East Peoria.  It's a church that's been around for several years, but in a new, pretty impressively and nicely designed campus in East Peoria.
It turns out at least two women I know are members of the church, and everyone there couldn't have been nicer. What a welcoming, inviting church. Thank you, Harvest Bible Chapel. You're a terrific example of hospitality and welcome.
(Side note: I spoke with a church staffer earlier this week to get numbers from the concert and check in because I had heard the church was in the direct path of Sunday's tornadoes.  While the church did sustain minor damage, and 50 percent of the cars in the parking lot were destroyed, the tornado "skipped" over the church and the hundreds inside were safe).
I saw many, many local friends at the concert, including a large number of Catholics. It was great crowd, with kids of various ages, parents, couples and families.  The 1,400 seat church was filled to capacity.
I took all three of my kids. We were sad that "Dad" could not attend, but since my husband was attending an evening diocesan pro-life meeting, he had to miss it.
One smile-worthy story: my teen asked if I could bring along her Audrey Assad t-shirt—she had put some clothes in my van before school, but had forgotten that one. Unfortunately, I brought the "wrong" one, the "Love is All You Need" red one she had gotten, instead of the newer, "Fortunate Fall" one that she got as an Easter present when we contributed to Audrey Assad's Kickstarter campaign for her newest album.
Here's my tweet from that: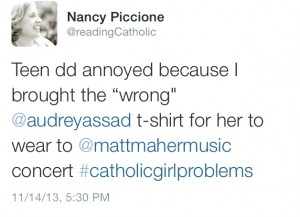 I do miss being able to be on Twitter on a regular basis. It can be a lot of fun, but I just don't have the time. Who else wants more hours in the day?
There are several large screens at the front of the church, and that helped not just to display the musicians large (this was particularly helpful for the shorter among us, since everyone was standing for the majority of the concert).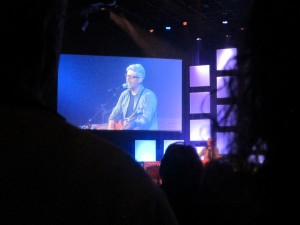 I am pretty sure this was the first "worship" concert I've attended. I've been at pro-life meetings where praise & worship songs were sung, but nothing like a full-length professionally produced concert.  Of course, I've been to WinterJam (I've even written a definitive survival guide to the concert series), but this was very different.
To me it was a fairly intense spiritual experience, in addition to a really good concert. Basically, I can't wait to go to another one.
Meredith Andrews and Vertical Church Band started off the evening, but Matt Maher came out shortly afterwards, and the group played in various combinations throughout the evening.   They are all skilled musicians and played together well.  We are already interesting in downloading from iTunes some of Meredith's songs.  She has a beautiful voice and a grounded stage presence.
After the concert, we (yes, the rep said it was okay to bring the kids along, and they sat quietly during the interview) headed back to the "green room."
Now, as I transcribed the interview at home the next day, I went through the purgatory all print reporters endure, to listen to their own recorded voice.  And a mental note was  made that one of my new year's resolution is:  speak.more.slowly.  For most of my life, I've spoken way too quickly, especially when I'm nervous (can anyone else relate?) Since I was nervous— mostly about not taking up too much time—I was barely intelligible. Oy.
So, the interview.  Frankly, I was fairly awed by Maher's intelligence and his spiritual gifts in our wide-ranging discussion. While I mostly stuck to my questions, he had a lot to say about each of them, so we spoke for a long time.
There were also digressions, such as my 10-year-old (pretty intelligently) inserting a comment into the conversation when Maher mentioned the St. Francis Peace Prayer. (Said 10-year-old has a serious devotion to St. Francis that pre-dates the current Holy Father).
Some of this might have to do with Maher's long service in ministry and what's clearly a deep prayer life and devotion to the Eucharist. In addition to that, he's just a smart, well-read guy all around.
Case in point: I asked my doctorate-in-theology husband (who's not easily moved by non-theologians talking about things like ecumenism) to proofread my transcript of the interview. After he did, my husband said, "He's pretty impressive."
Perhaps that is Maher's extensive reading list.
The takeaway lesson from this? While it is important to have a deep prayer life, committing to keep up with spiritual and other reading is  vital to your intellectual and spiritual health, too.
So, what is Matt Maher reading? This is a version of my "Meet a Reader" feature in The Catholic Post, a kind of"Meet a Reader: Matt Maher," and I must say this gives me some good ideas for future ideas of Q&As with authors and others.
Here's just two of the books that he mentioned, and what he had to say about them:
A Prayer Journal of Flannery O'Connor, edited by W.A. Sessions.
"It's amazing, it's beautiful, but she's someone who was desperately clinging to the mercy of God."
The Reformation: A History by Diarmaid MacCullough.
"It's like turning over a rock that's been in your back garden and hasn't seen the light of day. There's just a lot there."
(I didn't think of this at the time, but if I could suggest a book for him to read, I would mention Sherry Weddell's Forming Intentional Disciples.  Such a great book to read & discuss, on so many levels).
Other random facts from our interview:
*next book he wants to read? Hillaire Belloc's How the Reformation Happened.
*he has a devotion to St. Francis.
*he literally used the term "JPII" to refer to John Paul II (when referencing the Theology of the Body). However, my proofreading husband suggested that I spell out JPII's name so people would be sure to understand the reference. So it's bracketed in the interview to show those weren't actually Matt Maher's words. But he said JPII, just so you know.
*Maher would like to write a book someday on liturgical spirituality, but he thinks he should be over 40 for that (he's 38). Yeah for people who are daunted by writing a book too young.
*he was very kind and sympathetic when I shared the story of my favorite Matt Maher song. Here goes:
When "Christ is Risen" came out, we had just been through rough five years in our family.
Both of my husband's parents had passed away. A few years later, within four months of each other, first my mother, and then my father, died. And wow, did I miss them (and I still do, all the time).
So I'd be at the grocery store, and I would have seen someone who looked like my mom, and be a little weepy driving the kids around in the minivan.
For some reason my youngest was really fond of singing along very loud with "Christ is Risen." So I'd hear, from the back seat, a little earnest six-year-old voice, sing:
"Oh, death, where is your sting?
Oh, hell, where is your victory?"
Exactly.
I can't fully explain how healing a balm that was for my soul all those hardest first months after losing my parents.
So for those who grieve; for those who desire to praise their God but can't find the words or the melody; for those who enjoy joining with other Christ-followers for fellowship and singing; let me say: thank you, Matt Maher for your music and your ministry.
Did you go to the Matt Maher/Meredith Andrews/Vertical Church Band concert? Have you been to a praise and worship concert? I'd love to hear your feedback.