Following is my February column that appears in this issue of the print edition of  The Catholic Post.
When Father Michael Scanlan, the legendary president of Franciscan University of Steubenville, died last month at 86 years old, there were an outpouring of tributes to him.
Like many Catholics, I know quite a few people who have attended Franciscan University of Steubenville, and many of them paid tribute on social media such to his personal influence in their spiritual journeys and lives. A few highly recommended reading, Let the Fire Fall, Fr. Scanlan's autobiography.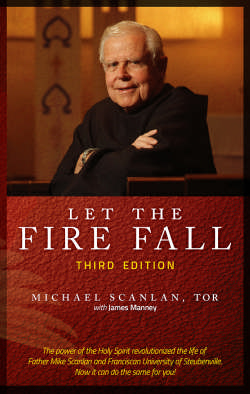 Inspired by these friends, I read the book, which was first published in 1986, but updated in 1997 and 2016, and co-authored by Jim Manney.  I loved it.
I'm so grateful for the opportunity to learn more about this holy priest and how he allowed himself to be used by God to do so much good throughout his life.
Catholic memoirs—and really, any narrative about how someone lives out their convictions— are an especially powerful way to share the faith, rather than just a description of Catholic belief and practice.
Hearing the story of how one person struggled through the ins and outs of faith over the course of a long, active life lived largely for God, is not just interesting to read, but also can be inspiring and instructive for one's own life.
Let the Fire Fall is Fr. Scanlan's personal history, from his early life as a child of divorce, to Harvard law graduate, to a Franciscan priest. But the book is also the story of American Catholicism in the late 20th century, and how Franciscan University at Steubenville came to have such a large influence in the American Catholic culture and the country at large. 
Fr. Scanlan was willing to obey his Franciscan leaders' guidance to leave behind his dreams of foreign missionary work to enter the world of academic administration.  As a result, he not only becomes involved in the Catholic Charismatic renewal, but makes a critical difference in one small Catholic college that's become a leading Catholic university.
Each relatively short chapter of the book covers a theme, with titles ranging from "Vocation" about how his realization he was being called to be a priest; to "Power in the Spirit," in which Fr. Scanlan became involved with the Catholic Charismatic renewal and healing ministries, to the chapters, "Rebuild My Church," and "The Way, the Truth, and the Life," detailing Fr. Scanlan's obedience in coming to the College of Steubenville. 
That obedience, and his hard work and collaboration with others, led to its renaissance as a distinctly Catholic institution with a large influence over the decades on the life of the Catholic Church in America.
Fr. Scanlan narrates how "dynamic orthodoxy" came to be a hallmark of Franciscan University from the 1970s on, as he attracted other Franciscans, prominent theologians, and faithful Catholics to live and work in the University.  Fr. Scanlan and others worked hard to make the theology department a vibrant part of the University's renaissance.
As he writes, "Theology at the University has become what John Henry Newman called it—the Queen of the Sciences."
This renewal did not come without hardship, and Fr. Scanlan wrote honestly about his own struggles over the years, and his own mistake and failings.  But overall, Fr. Scanlan's story tells of how a person willing to devote his life to the Lord and continually trying to use his gifts and talents to serve, can work wonders and do so much good for so many.  It can be an inspiration for any one of us to reflect on how we can listen to the voice of God better, as well as serve in our own corner of the world.
Let the Fire Fall also includes an afterwords with a short history of Franciscan University, both before, during, and after Fr. Scanlan's tenure there from 1976-2011.