How do I love my Fitbit One? Let me count the ways:
*I'm a numbers gal, and love having the feedback of knowing what I've accomplished step-wise.
*the Fitbit One tracks your floors as well as your steps. Our laundry is in the basement, so I get a lot of floors.
*Some of my stats in my year and nearly five months of Fitbit use:
*More than 6,000,000 steps.
*More than 10,000 floors (that's a lot of laundry!)
*It's just plain fun and geeky for me to know all these things about my activity.
If you're obsessive about your Fitbit or other tracking device (like the UP by Jawbone
), you know why I love mine so much. If you're not, you can make fun of us, until you get one for a gift and become one of us. Christmas is coming, after all!
The Fitbit one tracks the quality of you sleep as well, but you need to remember to turn in on sleep mode during sleep, and then wake it up again in the morning.  I forgot a few times, and my morning run didn't get counted, so of course I learned never to do that again.  But I wish it would recognize it automatically, since I do like how it recognizes how often you stir or get up in the night.
What about the new Fitbit Surge? Is it worth waiting for?  I'm not interested in it, since I feel like I have a good thing going with the One. What are your thoughts?
My husband's first Fitbit was a Zip (pictured below), but it was a little too simple, and also a little glitchy in synchronizing with your phone. So when he lost it, I got him a Fitbit One and he's been very happy with it.

We are huge fans of the comic strip Zits at our house, and I loved how earlier this month that the comic strip had a weeklong series about the Fitbit. Here's the first in the series:

So,  you may be wondering what Fitbit has to do with all things Catholic and books.   You know I gave up my Fitbit for Lent?  I didn't get much sympathy among normal folk, but fellow Fitbit obsessives were really impressed with my sacrifice.  It made for an interesting Lent (it wasn't the only thing I gave up, but, all joking aside, it was really difficult.).
Several weeks back, I was at a Friday evening soccer game for my 11-year-old, which involved walking a fair amount  to and from the parking lot.  I realized only part way through the game that I had left my Fitbit home to charge up, and the following text exchange ensued: (just before this, my husband Joseph had asked if he should bring me the Fitbit):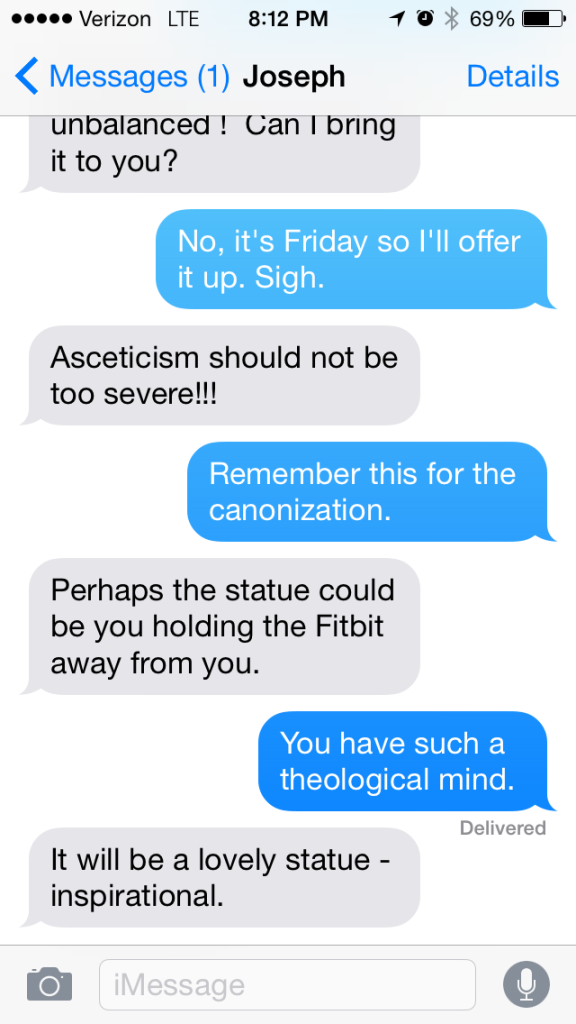 Now, in case anyone is thinking we were being serious, we weren't.  It was all in good fun, and shows we can laugh at ourselves.  Or mostly, laugh at me.
But I don't mind, because I have many, many steps to go before I sleep.
(Note: I'm not sponsored in any way by Fitbit–how I wish I were!–but the links in this post click through to my affiliate link at Amazon.  That means if you order your Fitbit or Jawbone or three or five for your loved ones, your price is the same, but I receive a small amount back. Christmas is coming, after all!)