Today the Lent Book Series features Gina Vozenilek.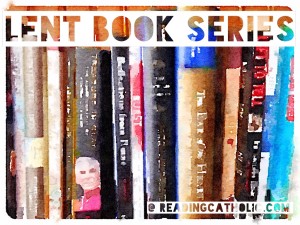 It's a pity I missed Flannery O'Connor at the University of Iowa. She was in the famed Writer's Workshop, and I was down the hall in the graduate literature classes. I was reading Beowulf and Chaucer, and she learned to write brilliant fiction, of which to this day I have read embarrassingly little.
We both went to St. Mary's in town for Mass, but on Sundays as I'd sit praying amidst the ornate paintings, I never guessed she had been in attendance as a daily habit. She was also writing–with no thought to its publication–A Prayer Journal (another habit I wish I had learned to emulate sooner), out just last fall from Farrar, Straus and Giroux.
Of course Flannery O'Connor and I also missed each other by about 50 years, but that is beside the point.
What a gift it would have been to have had the company of A Prayer Journal when, straight out of a sheltered religious university campus, I found myself in the relative wilds of Iowa City. I was often the only practicing Catholic in a classroom, and as a medievalist, I was confronted with interpretations of texts that were foreign to my understanding of my faith.
"At every point in this educational process," O'Connor writes, "we are told that [Faith] is ridiculous and their arguments sound so good it is hard not to fall into them."
I know how she felt. In my classes the Blessed Virgin Mary was frequently cast as a pawn in a devious patriarchal empire. I argued and defended as best I could, but I was often left to wonder if being a successful scholar in my chosen field and being a faithful Catholic was an either/or proposition.
O'Connor's Prayer Journal speaks to all readers who encounter a similar crisis when she prays, "…help me to love & bear with my work on that account. If I have to sweat for it, dear God, let it be as in Your service. I would like to be intelligently holy."
A Prayer Journal is full of intelligent holiness. The book, which includes a copy of the original composition notebook pages with a neat, loopy hand, is an artifact of a young woman's struggle to understand her relationship with God and with her work. The work is incomplete, and the entries are short and regrettably few, but what is preserved is a series of densely rich prayers. Some are metaprayers, even, in which O'Connor examines her own habits of prayer with scrupulous honesty:
I want very much to succeed in the world with what I want to do. I have prayed to You about this with my mind and my nerves on it and strung my nerves into a tension over it and said, "oh God please," and "I must," and "please, please." I have not asked You, I feel, in the right way. Let me henceforth ask you with resignation—that not being or meant to be slacking up in prayer but a less frenzied kind—realizing that the frenzy is caused by an eagerness for what I want and not a spiritual trust. I do not wish to presume. I want to love.
O'Connor's prayerful entries should be read slowly, one at a time, if only to make them last longer. For readers who come to this book to develop their own practice of keeping a prayer journal, the entries serve as good models for how to concentrate patiently on a specific theme. She undertakes separately, for instance, the four elements of a good prayer:
Dear God, Supplication. This is the only one of the four I am competent in…I believe it is right to ask You too and to ask our Mother to ask You, but I don't want to overemphasize this angle of my prayers. Help me to ask You, oh Lord, for what is good for me to have, for what I can have and do Your service by having.
Read A Prayer Journal, too, simply to hear the voice of a gifted artist praying to develop that gift. Sometimes elated, sometimes despairing, O'Connor's writing is always deeply earnest and consummately literary.
"What I am asking for is really very ridiculous," she writes. "Oh Lord, I am saying, at present I am a cheese, make me a mystic, immediately."
In reading the Journal, I am reminded of Bl. John Paul II's "Letter to Artists," issued on Easter Sunday of 1999, in which he addresses the work of the artist as vocational:
Those who perceive in themselves this kind of divine spark which is the artistic vocation—as poet, writer, sculptor, architect, musician, actor and so on—feel at the same time the obligation not to waste this talent but to develop it, in order to put it at the service of their neighbor and of humanity as a whole.
It is clear O'Connor would have agreed with the Pope's sentiments. "Please let Christian principles permeate my writing," she prays, "and please let there be enough of my writing (published) for Christian principles to permeate."
No Christian artist of any genre should miss reading Flannery O'Connor's A Prayer Journal. In this slim book we meet a writer who both desperately wanted to become accomplished by worldly standards and devoutly wished that her work would be the fruit and the aim of her love for God.
"Dear God, please help me to be an artist," she writes, "please let it lead to you."
After reading A Prayer Journal, I have decided to go meet Flannery O'Connor properly. I'm undertaking a survey of her fiction and essays, and especially her letters, published as The Habit of Being.
As luck would have it, right here in the pages of Reading Catholic I picked up more inspiration for what to read next to further my exploration of the intersection between art and faith. The current Meet-a-Reader guest, Father Charles Klamut, has recommended a book called Unlocking the Heart of the Artist by Matt Tommey and one by Lorraine Murray about none other than Flannery O'Connor called The Abbess of Andalusia. Thank you, Father!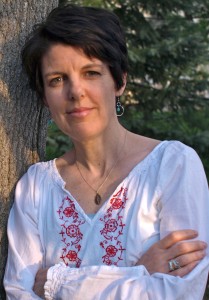 Gina Pribaz Vozenilek, her husband John, and their four children are members of St. Jude Parish in Peoria. An essayist, her work has won national awards and has appeared in Notre Dame Magazine, Brain, Child, Literal Latte, the Tampa Review, Body and Soul: Narratives of Healing from Ars Medica, and elsewhere.
Gina is the Communications Director for the Jack Pribaz Foundation, a nonprofit group started in 2012 on behalf of her nephew Jack, 5, who is one of the first known cases of a rare genetic epilepsy called KCNQ2 encephalopathy. "Jack's Army" raises funds for research and helps families connect to find support and information about this emerging condition. By sharing Jack's story, the Foundation has helped locate more than 90 patients and their families around the globe. Read more at www.jacksarmy.org.
You may also be interested in:
*Gina was featured last year in The Catholic Post and here as a Reader.  Gina is one of those "Readers" who really inspired me to dig deep into some intellectual writing.
*I told Gina after reading through this that she writes so well of her, she may have  convinced me to try Flannery O'Connor again.  As I've written before, I have tried in vain to love Flannery O'Connor, as it seems all good Catholics must, but I have never been successful.  Perhaps A Prayer Journal will help with that.