Following is my November column that appears in this weekend's print edition of The Catholic Post.  I invite your feedback here as well as any book suggestions you have.  A few more great books have arrived since I wrote this column, so that I may need to do an update.  December's column will feature books for adults.
Recommending books for gifts at Christmas—or any season—can be tricky. And yet books can be a great source of enjoyment and encouragement, and, at the right time and the right place, evangelization.
In the must-read Forming Intentional Disciples (my review of that book is here), Sherry Weddell writes of the thresholds that people cross on the journey towards Christ. Before any other step, a person must have a "bridge of trust" in either someone in, or some part of, the Catholic faith, before curiosity, openness, or truly seeking a relationship with Jesus can take place.
Well-designed and well-written books can foster or strengthen that "bridge of trust" that can lead to curiosity and beyond, planting seeds for future spiritual growth.
With that in mind, I've tried to select books that would appeal to a wide range of readers, especially those at a beginning level of trust or curiosity.
This month, the books column features books for children, and also more general "coffee table" type of books suitable for all ages. Next month's column will feature books for adults.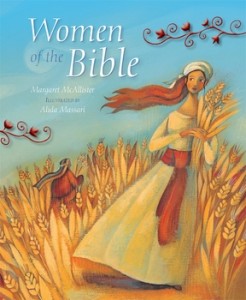 *I was drawn to Women of the Bible by Margaret McAllister because of Alida Massari's expressive and lovely watercolor illustrations. But after reading several of these enchanting stories, in which McAllister beautifully imagines vignettes based on women described in the Bible, I can confidently say the writing is even better. This is a delightful read-aloud for children of all ages. Highly, highly recommended.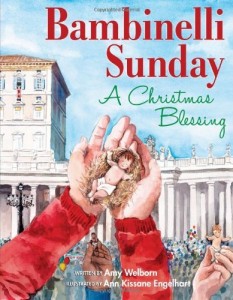 *Bambinelli Sunday: A Christmas Blessing by Amy Welborn, illustrated by Ann Kissane Engelhart. This is the latest of three picture books by Welborn and Engelhart, and their best collaboration so far. (Here's hoping the two do many more in future years.)
It's a story of a boy learning from his grandfather that "Love brings all the pieces together," even when those pieces are broken. The book is also a charming introduction to the real-life newer tradition of Bambinelli Sunday, when Italian children gather on Gaudate Sunday (the third Sunday of Advent) to have the baby Jesus figures from the family creche set blessed by the Holy Father.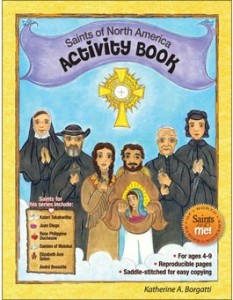 The "Saints & Me!" series of books from Liguori Press, with clever illustrations and approachable text for younger readers, is authored by Barbare Yoffie, and illustrated by Katherine A. Borgatti.. Added this year were four new saints–Damien of Molokai, Rose Philippine Duchesne, Andre Bessette, and St. Elizabeth Ann Seton, as well as a Saints of North America Activity Book (pictured above), with coloring pages, word puzzles and other goodies to keep little hands busy.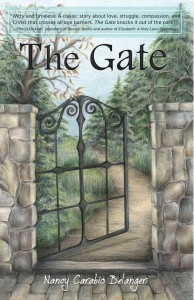 For more mature young readers, Nancy Carabio Belanger's newest novel, The Gate, is beautifully written story of a teen boy's struggle through the death of his father and accidental friendship with a nursing home resident. I've loved and highly recommend Belanger's other award-winning novels—Olivia and the Little Way for middle-grade readers, and Olivia's Gift for slightly older readers (review here and author interview (with a twist) here).
Because the narrative is told by an adult looking back, there's a certain melancholy and maturity that would be most appealing for readers further along in their faith journey; I would say a slightly older audience than Olivia's Gift. But's its a great read for older children and adults.
Here are some "coffee table" style books suitable for all ages: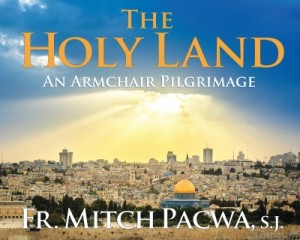 *If you've ever had a desire to do a Holy Land pilgrimage (raising my hand here), Fr. Mitch Pacwa's The Holy Land: An Armchair Pilgrimage offers a lush virtual tour in a handsome, well-designed book with tons of photos and many old illustrations and maps of Holy Land sites.
The book is substantial but not oversized, so it's perfect for couch perusal, meditation, prayer and perhaps a little dreaming about your own Holy Land excursion.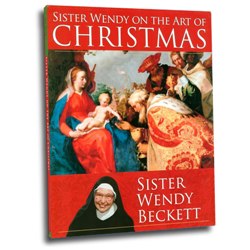 *Three new gorgeous books offer introduction to paintings well-known and obscure, all with religious themes: Sister Wendy on the Art of Mary; Sister Wendy on the Art of Christmas (pictured above), and Sister Wendy on the Art of Saints.
Sister Wendy Beckett, who became justifiably well-known in the 1990s for her BBC art history documentaries, is the author of these slim but powerful volumes. Each section offers a reproduction of artwork, plus Sister Wendy's prayerful and educated—but never stuffy—commentary about the work and its religious meaning.
"When you look at the pictures in this book, really look, opening your heart to take in what is there before you, you are not only responding to a particular work of art, you are practicing the habit of openness to the beauty of God as he illuminates every moment of your every day…. it changes us."
Looking at even one picture a day, and reading the short but rich narration, is a beautiful way to introduce yourself or anyone in your family to the delight of reflecting on beauty. Gorgeous artwork made richer by Sister Wendy's commentary makes these books well worth having and cherishing.