As I wrote about on Benedict XVI's last day, we have been celebrating the upcoming conclave at our house, off and on.  We've had some extra time  at home for this, since my 12-year-old broke her ankle in two places sledding a week ago.
(aside: can I just say I have always been a member of MAS–Moms Against Sledding. and wish there were a real group like that!  I hate sledding; I know people who love it, but I grew up skiing, not sledding, and I just don't like it. Now I have a real reason to dislike it).
Anyway, that has left us with a lot of "home time" apart from appointments and such, to have some fun exploring the conclave.   I have appreciated the posts I have seen on Patheos and elsewhere from Lisa Hendey, Elizabeth Scalia and others (like Katie of NFP & Me, where my 15-year-old discovered Fantasy Conclave).  So I thought I would share here some of the sites and things we have found fruitful as we prepare for the start of the conclave tomorrow: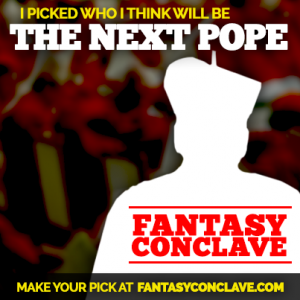 Yes, we did the Fantasy Conclave, even though a monsignor we saw yesterday said he wasn't wild about it (mea culpa).   As I mentioned, my teen found about the site from Katie's round-up on NFP & Me, but I hadn't had a chance until today.
I must confess that I entered the fantasy conclave multiple times so each one of us could choose one cardinal.  I promise that I'm not trying to increase my odds of winning or anything; I just agree with the website authors: "We believe and trust that it is the Holy Spirit that guides this whole papal election process. Our speculation on the outcome is not a lack of trust in the Church or the guidance of the Holy Spirt, but merely a way to encourage education and interest in the process."  And we most enjoyed getting to guess which name each cardinal might choose as pope.
The BBC's "Virtual Conclave" is a great short video from a virtual Sistine Chapel describing the process and the contenders.
Absolutely LOVE this blog post (from a FOCUS staffer) about how you can be the first to know who is chosen pope from the announcement.  We happen to know the text of what the announcing cardinal will say because we have played "Benedictus Mix" so many times.  I hope that someone will make a fun mix of the new pope's announcement.  Most fun of this post were the Youtube links of prior papal announcements.  Very informative and fun!
I also discovered another FOCUS project, PopeAlarm.com, where you can sign up to receive a text or e-mail when the new pope is chosen.  I signed up and promptly received a test text.
Do you have any fun social media sites to share on the conclave?  Anything special you are doing to celebrate?