Today is our Holy Father's last day as Pope.  There is so much coverage, from television to people writing, tweeting and talking about it, I can't even process it.  I did my part for the Twitter storm #ThanksPontifex, though others were much more eloquent in 140 characters or less.
When my teen came down for school this morning, holding her BXVI sweatshirt from Catholic Girl Apparel to wear at play practice after school, she expressed a little wistfulness that she probably couldn't wear it after today.  So I knew we had to make this event in the life of the Church our family's experience too.  And fortunately, a lot of resources are out there for families, kids or just interested adults, to learn more about this process and the Holy Father.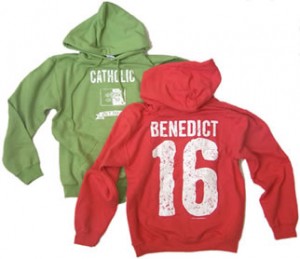 One thing I  remember vividly from when Blessed John Paul II died and Benedict XVI was elected was how much television (EWTN, mostly) we watched at that time.
We had a French teenager named Aude living with us at the time.  It was interesting to have someone from Europe with us at that time, and seeing the Church as a truly universal Church.  One of Aude's French friends shared with us this great mix song, "Habemus Papem (Benedictus Mix)."  I still sometimes play it on runs if I want to go a little faster.  It's catchy:
We didn't do a lot of schoolwork those days, but looking back I'm enormously grateful we spent a lot of time praying for JPII, praying for the conclave, and just exploring it through watching television (and in smaller way, checking out websites, but the Internet is much bigger and better now). I also worked on a scrapbook of that time, and looking through it these days brings me back to those days.
When Cardinal Ratzinger was announced as the new Holy Father, I remember Aude was sitting with the girls on a little red IKEA kids couch we had at the time, and the three of them were so excited that the couch fell over backwards.  I don't have a photo of that in my scrapbook, but it's in my memory.  Here are some pages from the scrapbook.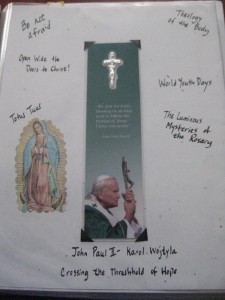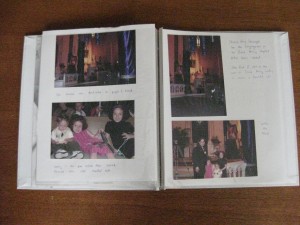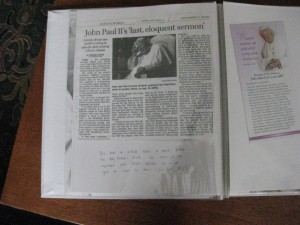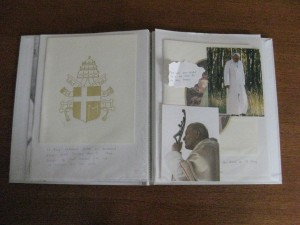 Now that my kids are all readers and writers and do-ers, so what are we doing to mark this historic transition for the Church? I won't be doing a physical scrapbook this time, though perhaps I will find some digital ways to remember, like here.
Here are some ideas we are picking and choosing from:
Meg of Held by His Pierced Hands had a super-fun round-up of ways to "teach the conclave."  So far, we've laughed at the "conclave" photo and those of us home right now have "adopted" a cardinal.
After visiting the very simple Adopt a Cardinal website, our random pairing gave us Sean Brady of Ireland, Jean-Claude Turcotte of Canada, and Luis Antonio Tagle.  If you do the Adopt-a-Cardinal at your house, will you share in the comments who you received?
The brand-new "Electing the Pope" website  by Dorian Speed (and a great group of contributors) is also interesting to explore, though I must say we haven't spent much time there yet.  I'm sure it will be a great resource for it when the conclave starts in a few days.
I tweeted just after BXVI announced his retirement: "Looking for another intention to pray for this Lent? @pontifex resigning and the election of a new Pope is a good start."
I want to continue to have that spirit this Lent, to pray and sacrifice both for Benedict XVI in retirement, the college of cardinals as they select a new pope, and for the new pope himself.   My goal is also for the kids in our house to remember these days, not just prayer but the fun of exploring and learning about it.
Are you doing anything special to mark this important day and this time in the life of our Church?