Today the Lent Book Series features guest writer Liesa Dugan.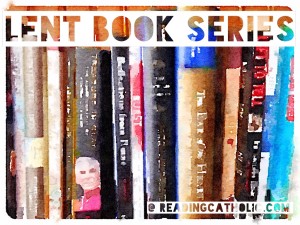 Relativism—have you heard about it yet?
I really only noticed the term about a year ago when scrounging through some books on display at a conference I was attending. It is sometimes difficult to keep this mind of mine engaged in reading material.
So I wasn't surprised that the slim size of this little book entitled, Absolute Relativism: The New Dictatorship by Chris Stefanick  grabbed my attention-challenged brain.

Don't be frightened by the 'deep' sounding word. Clearly, you need NOT be a theologian, philosopher or brainiac to dive into this subject matter on relativism if someone like….well, me….can read, understand and identify the concept in action in our society.
What the heck is Relativism?
Well, if that is what you are thinking right now, may I say you are a brilliant student/reader.
Pope Benedict XVI stated that relativism is "the greatest problem of our time."  Stefanick goes on to say, "Relativism is the idea that there is no universal, absolute truth but that truth differs from person to person and culture to culture."
Basically, relativism takes political correctness to another level.  A relativist believes that everyone should be allowed to believe as they like without being challenged by others.   A relativist feels that they have the right to believe solely what they feel is right for them, not you.  They state that you should not impose your beliefs on an individual because they have the ability to make up their own morals, values, and rules to live by.
And this is a problem because….?
I am in no way, shape or form going to rewrite Stefanick's book. He does an incredible job of explaining and dissecting this philosophy in his book.
So I say, read it! I can guarantee you won't look at another television show, neighbor, or family member the same way again.
(That's a good thing? Yes!)
By identifying how this disjointed form of acceptance and tolerance is weaving itself into the fabric of our daily lives, you can help unravel the harm it is doing to your family and faith.
You may not know it yet. but relativism is harming the world in which your children are growing up.  Simply because this philosophy of living has not been widely discussed or examined, it is sneaking into our own homes and wreaking havoc on our families.
Today I'm playing mom with the yucky medicine bottle and saying, "Take this."
As an excellent offering for Lent, read this little book: Absolute Relativism: The New Dictatorship by Chris Stefanick.
You will thank me later…
For the reading-challenged, here's Youtube video by Stefanick about relativism:
—-
Liesa Dugan and husband Jim have been married for 23 years. They have three fabulous daughters 18, 16, 12. The two met at NIU as they were earning their degrees in Communications. Liesa has enjoyed spending most of her mom days at home raising their three daughters. On the side, she has assisted at parishes with various ministries, worked for Catholic Charities to assist with public relations, lead the Elizabeth Ministry at two parishes.  Currently, she leads the Drama Club at St Jude Catholic School.