Following is my February column that appears in this week's print edition of The Catholic Post. I realize that the reference to internet culture may be a bit strange to read online, but keep in mind that my column appears in print, and many of the print readers may not understand about memes.  So I created one to appear in the paper, and it's republished here. Brace yourselves! 🙂
Those with a bit of internet culture knowledge are doubtless aware of some of the most popular memes—those humorous text boxes overlaid on a photo or GIF (a short photo/video loop) of something goofy, and the Catholic ones can be genuinely funny. If you're not aware, Google "Catholic Ryan Gosling," or "Victory Baby", or "Grumpy Cat," and you'll know what I mean. I'll wait.
One enduring meme is what always thought was Boromir (from The Lord of the Rings), but is actually called "Imminent Ned." Now imagine that with the text "Brace Yourselves: I'll be Writing About 'Year of Mercy' Books All Year Long." That's the visual that jumped into my mind when I realized how much I plan to write about books related to the Year of Mercy during this year.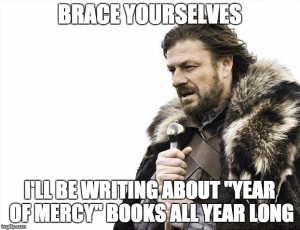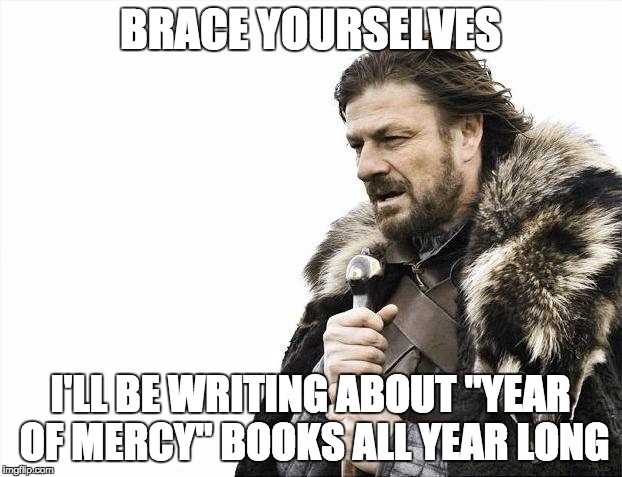 This is partially because like many people, I've been especially drawn to the messages and the beauty of the Year of Mercy.
It's also because there are just such a good collection of books that have been released, or are yet to be released, with mercy as the theme.
No doubt many were released (or at least named) specifically for the Jubilee Year of Mercy, but enough have such promise for being spiritually edifying and well-written that I plan to share a number of these with readers of The Catholic Post in coming months.
The start of Lent offers an excellent time to consider some form of spiritual reading and reflection.
A trip to your local Catholic bookstore or online resource offers myriad choices and resources for the Year of Mercy, but let me offer a few stand-outs.
One idea is to explore one or more of an Of Mercy series written by the  Pontifical Council for the Promotion of the New Evangelization.
But don't let the official-sounding author name discourage you from picking up one or more of these eight excellent titles. These are all short (less than 100 pages) of accessible writing about the topic (the sacrament of confession, the parables, etc.) as they relate to mercy. So, for instance, in "The Psalms of Mercy" reflects on the Psalms that relate to mercy, and "Celebrating the Year of Mercy" lists some of the special dates in the year, as well as the rich liturgical life of the Church that helps Christians live mercy through prayer.
For a more visual exploration of the Year of Mercy, there is the Disciple of Mercy Journal, published by the Sisters of Mary, Mother of the Eucharist. (Local connection: several of this order's sisters are at Peoria Notre Dame High School and St. Jude Parish in Peoria).
The Disciple of Mercy Journal was designed for use by junior high students and older, but it's too good for the young to keep to themselves. It's a substantial resource for all ages to reflect on what mercy means in Scripture, as well as how people can practice it in daily life.
The journal provides 12 weeks of study, each with a focus on a Scripture passage, with guided questions, artwork, lectio divina, and suggestions or challenges for living out mercy in one's life. The journal can be written in, or not—there are spaces to answer questions and respond to the Scripture and artwork.
Even though the journal follows a weekly structure, there's no need to rush through it. A reader could spend the entire Year of Mercy working through this journal and benefitting from its many-faceted approach.

Finally, if you're a fan of fiction, or can find spiritual thoughts in one novel for something completely different, if you like fiction as much as I do.
I just finished Fr. James Martin's first (fiction) novel, The Abbey: A Story of Discovery. While I've been impressed with every book I have ever read of Fr. Martin, especially his moving memoir, Jesus: A Pilgrimage, I confess I was a little skeptical of his foray into fiction. Fiction is so hard to get right-especially religious fiction. Mea culpa for that thought.
But  The Abbey is well worth reading, both for enjoyment and for a look at the spiritual life. The book is a poignant, simple story about grief, spiritual growth, and how God reaches out to each individual in myriad ways.
The novel is told through the stories of several people with little or no religious belief, and their connection with an abbey of monks; the story quietly explores how both the laypeople and monks affect each other. The Abbey presents the concept of spiritual direction in a natural way, as well as showing how God meets us in our everyday lives, our imaginations, and the people around us. It's a good read.