Today completes 7 posts in 7 days.  I have SO enjoyed this challenge, and love hearing from people who have been following along.  But I'm also SO glad it is completed now.
I'm sharing various photos and impressions from this year's Behold Conference, yesterday here in central Illinois.
Friday night was a gathering of bloggers with a dinner and a talk by Dr. Jillian Stalling, a local NPF-only ob/gyn.  Her talk inspired a very spirited discussion among the mostly younger moms and bloggers about NFP and life in general.  A great time was had by all, and I loved getting to see local friends and fellow bloggers from this area Bonnie & Britta and meet Kendra and Deirdre as well as meet several new-to-me bloggers, including Molly from Molly Makes Do, Elizabeth from That Married Couple, and Annie from Annery at Home.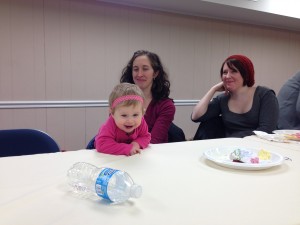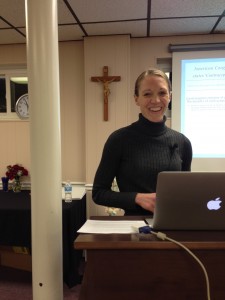 Saturday was, for me at least, a great mix of seeing tons of women I know and love, from all over the diocese, or who have moved away and come back, new faces and people to meet.
Some photo highlights and impressions:
Some quotes and impressions from the day:
Mother Assumpta quoting from Mother Teresa, "Give God permission. Trust him."
Marie Miller singing 6'2" and a group of teens in the audience screaming when she knew what song was coming.
Bonnie Engstrom instagraming terrific photos throughout the day with the tag line (a little long for a hashtag) "you might be at a Catholic women's conference if" … there's a line for confession…. there's adoration ….. there's a mother's room by a changing table.  I told her I wished there were a retweet (or reInstagram? Guess that's why there's not one) button on Instagram so I could share.
Happy and sweet little baby noises during Mass.
So many baby bumps, I couldn't even count. I broke, on numerous occasions, the rule to not ask a woman when she was due. And lucky for me, I wasn't wrong.
Seeing my older teenage daughter connecting and re-connecting with other great teen girls we know.
Mother Assumpta Long in her breakout talk, "When God is Silent"–"The main thing is, never give up. Be patient and persevere."
I also enjoyed greatly reflecting on past Behold conferences, and considering all the speakers and bloggers who have been at past conferences, from Jen Fulwiler, Teresa Tomeo, Kate Wicker, and the whole group of bloggers who came to the conference in 2012. I wrote about the 2012 conference here and here (among other places), and the 2011 conference here .  The last link was actually a post of live blogging, basically a post I updated through the day. I wasn't on Twitter back then, and this was an interesting way to do it.  I actually like this format and may want to revisit it for future events.
This year at Behold (especially since I was only a minor volunteer this year, helping the meal director with traffic flow during lunch), I spent a good amount of time in adoration or in quiet time, really the better to soak up everything I could from the talks and the visits with friends I don't see very often, or get to know new friends.  I also had time to be on Twitter, Facebook and Instagram.
Behold 2014 was kind of like a retreat day with social media off & on. It may sound strange, but something about that really worked. I don't consider Behold a retreat day necessarily. And that's okay. It was a hybrid or mixup of prayer, connection with God, connection with neighbor, huge laughter, music, social media.
If you were at #Behold2014, what was your favorite part?