Tomorrow marks the 12th anniversary of 9/11.   Do you commemorate this sad anniversary?  Do you remember where you were on the day? I do (and wrote about it for my column on the 10th anniversary of 9/11), and I think most people have total recall of that moment and day.
As usual, I've got some book suggestions for helping to both remember and to process 9/11.  And as if often true for tough topics, children's books can be a great choice.
The primary book that I reviewed for the 10th anniversary was a children's book about the events of 9/11, He Said Yes:  The Story of Father Mychal Judge, by author Kelly Ann Lynch.   It wasn't entirely intentional to focus on a children's book, but as I argue, sometimes "just a kid's book" can be more insightful and meaningful than books for adults.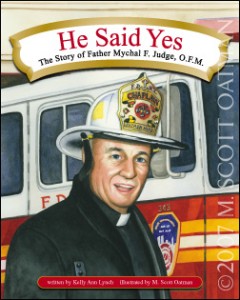 At the time of the 10th anniversary, I listened to a radio interview with a American studies professor discussing the "art of 9/11," focusing exclusively on novels, movies and songs for adults that have come out of the tragedy, and their meaning, and how they have helped us heal (or not) after 9/11.
It was a fascinating interview; yet I found myself thinking about how much more do children need help in processing and understanding difficult events like what happened on 9/11.
I was a volunteer in the library of our local Catholic grade school, and I was fortunate to get a chance to read He Said Yes with different grades of kids, and we talked about what happened that day.
This book ended up being a great way for kids who were unaware of 9/11 to learn about it gently, as 9/11 images were all over the news, and the students are bound to be confronted with it.  Learning about the heroism of Father Judge and others will give, I hope, some framework for understanding beyond the images.
Some of the kids asked me, "Is that a true story?" so we talked about how Father Judge is the listed as the first official fatality on that day.
I was surprised that every single time I read it, I choked up on the last pages of the book, when author Lynch quotes John 15:13, "When Father Mychal ran to the towers, he was following in the footsteps of Jesus, who told his disciples, "No one has grater love than this, to lay down one's life for one's friends."
Two other excellent children's books to help the young and not-so-young explore 9/11: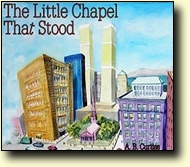 The Little Chapel That Stood by A.B. Curtis is a beautifully illustrated and lyrical poem-book about Old St. Paul's Church, which survived the attacks at Ground Zero, and became a place of refuge for firefighters and others.
If you can, reading an actual copy of The Little Chapel That Stood makes for great reading with small children; the book itself is handsome and a nice size.  (I finally did break down and buy a copy of the book after a visit to the 9/11 memorial this summer).
If you can't locate a copy of the book, please consider reading it online on the author's website.
If you do, remember that this book needs to be read out loud for full effect.  Be prepared to choke up a little if you do read it out loud, when you read many lines, especially about how the firefighters hung up their shoes on the fence of the church:
"Oh what gallant men we did lose, who never came back to get their shoes!"
[The interesting Catholic trivia connection to Old St. Paul's, an Episcopal Church, is that St. Elizabeth Ann Seton, the first American-born canonized saint, was married to her husband, William Seton, in St. Paul's, on January 25, 1774.]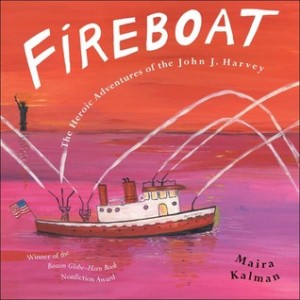 Fireboat:  The Heroic Adventures of the John J. Harvey by Maira Kalman, is another great book about the great and small heroism around 9/11.
This book, too, shows how ordinary people worked to stop the fires at the Twin Towers with a previously retired and restored 1930s-era fireboat.  The illustrations are a kind of modern folk-art, and the text is delightful in conveying such difficult themes.
Do you know of any other 9/11 books for children or adults?  How are you discussing 9/11 with your children?
Here are some links to my prior writings on 9/11 books:
Here is my column on the 10th anniversary of 9/11.
Here is a Q&A with Kelly Lynch, author of He Said Yes.
That summer, I happened to discover QR codes, and became obsessed with making my own that could go in the print edition of The Catholic Post.  I did eventually make one, that would lead readers to a prayer for 9/11.  You can read about that here.
Finally, I wanted to share a few photos and reflections from the 9/11 Memorial Site.  Our family had the opportunity while in New York City last summer to visit the site and some related areas nearby.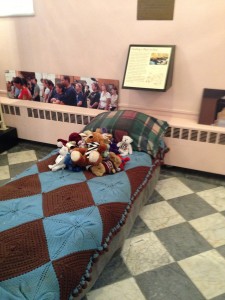 Here is a photo of the interior of St. Paul's Church, the "Little Chapel that Stood."  Much of the church is given over to displays on 9/11.  It was quite moving–this was a bed that had been used (among dozens of others) to house workers in the days after 9/11.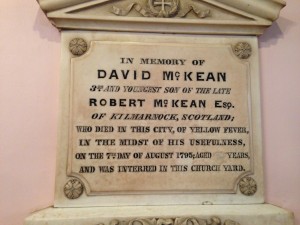 The memorial itself is on the site of the twin towers.  Some of the entry areas, and the museum, are still under construction, but it's a fascinating site.  It's also heavily visited, and we were fortunate that we could get in after a short-ish wait.  Often there is a long wait to go through security for it, and you can order tickets ahead of time.  We were not aware that tickets were even needed.
The memorial itself consists of the footprints of the two towers.  In place of the each tower, there is a square flowing fountain.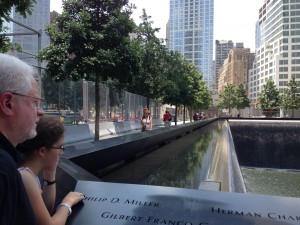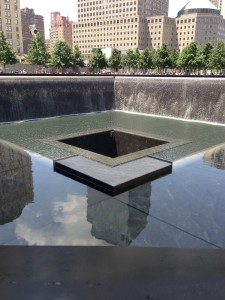 Later that day, I had an interesting discussion with one of my brothers-in-law about the memorial, and his strong objections to it (He's an architect, so he has some expertise and opinions about these sorts of things).
He commented that the falling water at the memorials was "always falling" as if the towers were falling again.  I don't agree, since I saw the water and the fountains as cleansing and healing for the land there.  It's just interesting how there can be different perspectives on the same place.
Around the fountains is a framework, listing all those who died on 9/11, not just in the two towers, but also the planes, those at the Pentagon, and the site in Pennsylvania.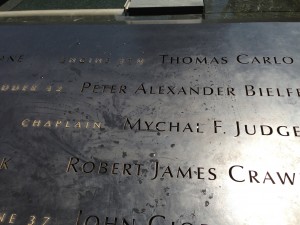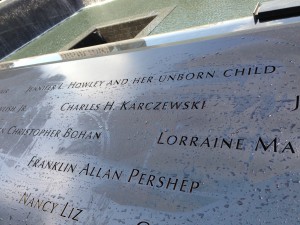 Here is something I became just a little obsessed with at the memorial.  For some women listed, the wording is "and her unborn child." (this photo is of "Jennifer Howley and Her Unborn Child.")
I kept walking around the framework looking for other women who perished in the towers along with their unborn children.  On my casual look I found six total, but there may be more. I was not thinking in a pro-life extremist way, that somehow these lives were more precious because they were so innocent.  Rather, I wondered how the wording happened to be agreed upon, especially in our day and age.
How did these women come to be listed with their unborn children?  Did the families request it?  Were they offered the opportunity to add this on? Was there any controversy about this among the memorial makers?
There is so much political correctness that surrounds abortion, especially in a city like New York.  It's just intriguing to consider what the backstory on this might be.  More importantly, however, we spent a lot of time that day praying for those who died that day, born and unborn, and that there may be peace in our world.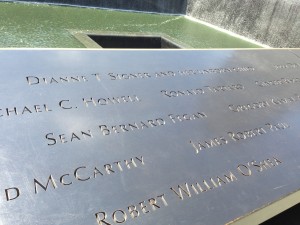 Are you doing anything to remember the 9/11 anniversary?