In the last few weeks, three different mom friends have asked for some ideas about what to see and do in the DC area, as their families are trekking there this summer. So I'm putting on my thinking cap to offer some ideas.  It's not exactly a literary pilgrimage … yet.  Books will be added in here eventually; I just want to share some ideas first.
DC is a great travel destination. My husband and I met and married in Washington, DC; I worked there for quite a few years; and I still have a sister who lives there.  So I do know my way around the town a bit.
What's so great about DC and the surrounding area?
First, most of the attractions and museums are free, so you can easily pop into things without much commitment.
Second, it is such a great walking (and bicycling) city. There's so much to do and see outside, and one of the best ways to see the city is to walk from one destination to another.
Third, DC has a lot of fun food choices, from ethnic to American. I'm not a gourmet, and these people are traveling with families, so I'm suggesting fun and family-friendly ideas.  Since we live in a small town, eating out for us is a fun part of traveling.
First, let's get to some of the attractions that are worthwhile seeing: Monuments. A day, or part of a day, is worthwhile to visit the monuments at one end of the National Mall.
When I took the kids to DC for a family graduation several years ago, we took an afternoon to do a "speed walking tour" (we had somewhere to be)  from the Lincoln Memorial and onto the monuments surrounding the Reflecting Pool. Here is the map of those monuments: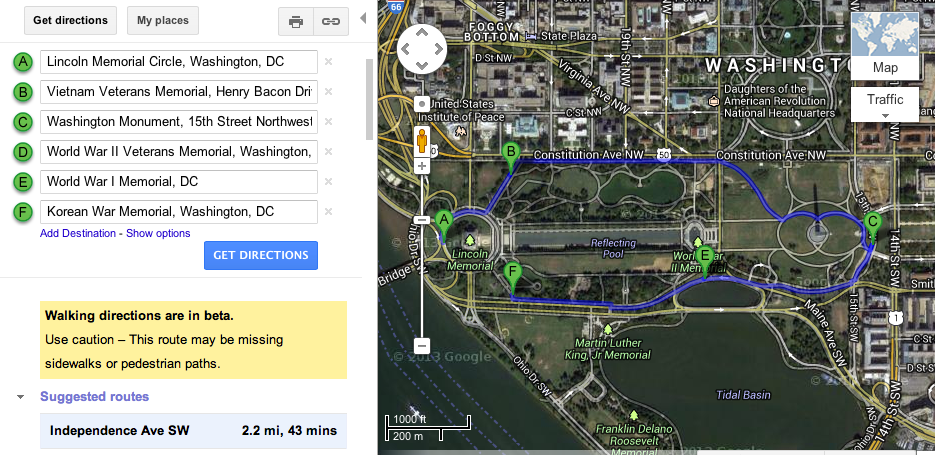 Museums. Another day (or more) could be taken with visiting some or all of the museums/attractions on this side of the Mall. Here's a Google map of some of those sites that I think are worth seeing: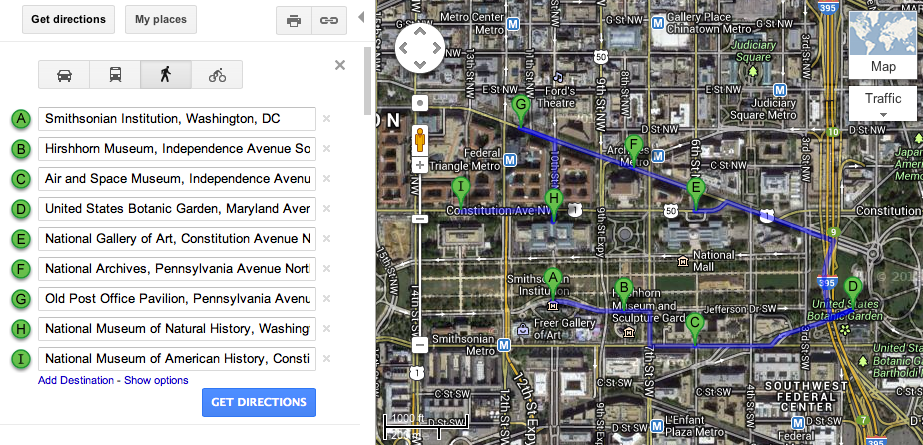 I added the Old Post Office onto this map as it offers a food court. I think the one at Union Station is better, and also offers real sit-down restaurants as well, but I've added that onto the map for Capitol Hill sites.
The following map is somewhat more nostalgic one for me, as it goes near my old neighborhood, the Church in which my husband and I were married, and a favorite casual restaurant we enjoyed, Le Bon Cafe.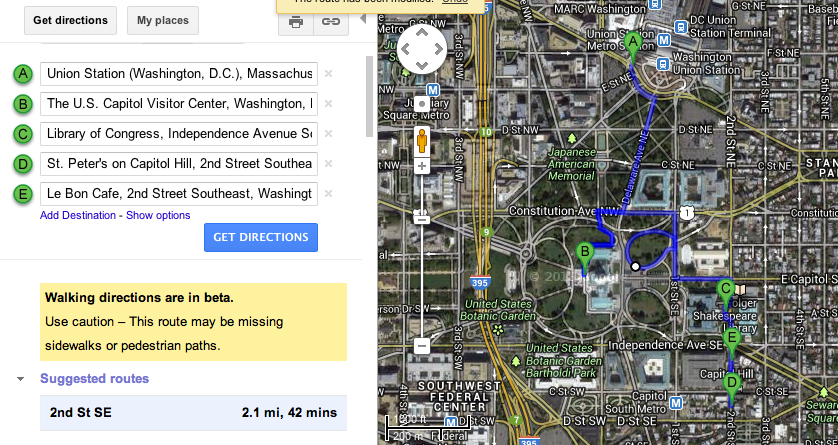 One other site that is important to see and well worth the short drive from the Capitol, is the Basilica of the National Shrine of the Immaculate Conception  It's worth trying to catch a daily Mass there, and then visiting the chapels to Our Lady throughout the Shrine. The one to Our Lady of Guadalupe is one of my favorites.
The bookshops/gift shops in the Shrine are really well-stocked, too. just right behind it is the John Paul II Cultural Center. I haven't been there in years, so I'm not sure what is offered there, but it's just a short walk from the Shrine, so if time permits it's worth popping in. In the CUA/Shrine area, the student center at CUA called "The Pryz" has good and inexpensive eats.
Outside of DC, friends who are still local mentioned that the Air & Space Museum at Dulles is excellent:
Family members really enjoy running or hiking along the C&O Canal.
I love seeing Mount Vernon all times of the year. It's not free but beautiful. I spent many Saturdays riding my bike from my Capitol Hill apartment to Mount Vernon, along the bike trail that runs along the Potomac.
Here's what I do with a little extra time in the DC area: I am completely enamored of the idea of big city bike shares.  This is a program where bikes are available nearly free at many sites throughout a city.  There's usually a small fee, like $6, to join the program for a day (or a year, if you live there), and then you can take a bike out whenever you want.
I first saw a bike share program in London when we were there in 2010, and when we saw them in Minneapolis on our Betsy-Tacy pilgrimage last year, I vowed the next time we went there, we would bring helmets and get these bikes for an afternoon or a whole day.
It turns out DC has a bike share program. If I were going this summer, I might try to bring along helmets and figure a way to do a ride, maybe along the Alexandria to Mount Vernon trail.
As far as eats outside DC, I have several fun suggestions, but they are more based on my time in DC many moons ago than anything current.
Arlington, VA, is known for ethnic eateries, and I have three ideas. I'm willing to be corrected or amended here, so comment away.
First, Vietnamese. My husband and I had our first date at a Vietnamese restaurant in Arlington, VA, called Cafe Dalat. But that no longer exists. Sad! I found one called Minh Restaurant. The reason Vietnamese was good in Arlington is there is a significant immigrant community; I hope that's still the case.
The other kind of food is Peruvian chicken, a special kind of rotisserie chicken that is popular with Peruvian immigrants. El Pollo Rico is the classic version, and it's excellent and served really simply.    I'm not a fan of Anthony Bourdain, but the video on their website shows how yummy the food is.
This is not exactly ethnic, but rather true blue DC in my mind: Red, Hot & Blue. We like to stop at the one in Annapolis sometimes on our way back from the beach. There are various locations.
Where to stay in DC? That's for another post, but our family has stayed successfully here since we have family living very nearby.  One set of friends will be staying here . I think this property that is a great location, and Springhill Suites has been renovating its hotels beautifully lately.  If we didn't have family up in the Northwest DC/Maryland area, I'd definitely try that one next time.
I have some ideas in my mind of books about DC and environs, but that will have to wait for another time.
Do you have any ideas for DC must-see attractions, must-do activities, or must-eat food?