From the author's website: "I think, if you like Narnia, you'll like Mistmantle."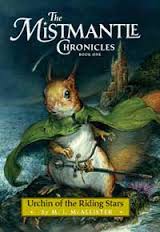 That pretty much sums it up this fantastic series our family has discovered in the last few weeks.
As I wrote on my GoodReads review, before I read Mistmantle #1,  Urchin of the Riding Stars, (but heard my kids raving about it), I said "it looks like a worthy and noble successor to Redwall." But now that I've read the first book, I can now say the series is far superior to Redwall.
Even though animals, such as squirrels, otters and hedgehogs, are the characters (like in Redwall), the spiritual content of The Mistmantle Chronicles, by Margaret McAllister,  is more like C.S. Lewis' The Chronicles of Narnia. There's a ton of action, mystery and virtue. These books are well worth reading if you have anyone in your house who has enjoyed Narnia or Redwall books.
That's pretty much the important part—you can go order the first five Mistmantle books from the library or Amazon now, or you can continue reading about how I discovered this series.
***
With the gajillion of children's books published every year, you might find it strange (and I do, too) that I get genuinely surprised when I discover a great author or series previously unknown to me.  How did I not know that this person existed and was writing fantastic books?
Part of the reason is that while many books are published, it's rare for one to stand out. Even among the many good books I review, there are only a few that I give as gifts to my own friends and family. (Some recent ones include Forming Intentional Disciples by Sherry Weddell and anything by Colleen Swaim).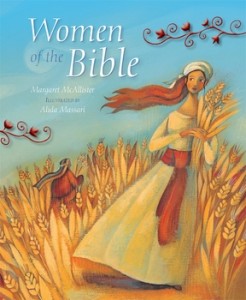 Women of the Bible was one of those books. Paraclete Press, a publisher I know and love for well-designed books, sent a review copy, and I was immediately enchanted. It was "highly recommended" in my November column for The Catholic Post).  I was so struck by the writing—it really wasn't just run-of-the-mill, but lyrical.
I skimmed through most of it, and then I read to my older children one of the stories. I couldn't get through it without tearing up. That has only happened to me a handful of times, and so I can recall them easily. The first time this happened to me was many years ago, when I first read to my then-preschooler the time in By the Shores of Silver Lake when Jack the bulldog dies. If you have ever loved a dog and tried to read that part aloud, you know what I mean.
Anyway, we all wondered if McAllister has written anything else. Turns out, Mistmantle!
I ordered the first in the series from the library, and we all LOVED it, to the point of putting it in the next person's hands when you are finished, to the point where I ordered two copies of Book #2 from the library so that there wouldn't be fistfights over it, and so on.
(Yes, sadly, we occasionally come to blows at our house over books, we are that serious about it—I might exaggerate a little, but this has nearly happened before with at least two of the Penderwicks books, and one of The Ranger's Apprentice books.)
There are currently five in the Mistmantle Chronicles and I just hope and pray McAllister is planning to write more. Margaret McAllister, may you continue to be as wise as C.S. Lewis and may you be as prolific as Brian Jacques.