Today the Lent Book Series features Lisa Schmidt.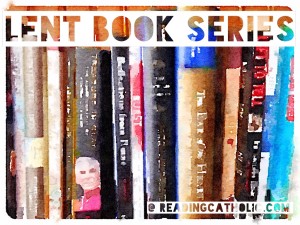 Three years ago, my husband Joel and I traveled on a "Footsteps of St. Paul pilgrimage" to Rome, Greece, and Turkey. During one of our excursions in Lindos, Greece, we had the opportunity to tour the acropolis on top of that ancient city. For reference, Lindos is built on the side of a steep hill, and climbing up to the acropolis is definitely an effort. To assist pilgrims on their journey, donkeys are available for rent. A donkey? You want me to ride a donkey? When in … well, when in Lindos, Greece …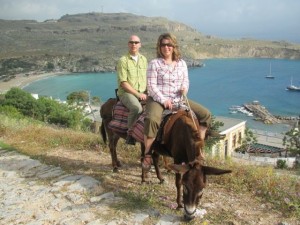 While our mode of transportation became the source of many jokes and laughs for the remainder of our pilgrimage, the fact that Jesus rode a donkey into Jerusalem on what we now celebrate as Palm Sunday didn't escape me back then. And that fact certainly doesn't escape me today, either, as we prepare to celebrate Christ's triumphant entry this Sunday.
Jesus went on toward Jerusalem … he sent two disciples ahead:
"Go into that village over there," he told them. "As you enter it, you will see a young donkey tied there that no one has ever ridden. Untie it and bring it here." … So they brought the colt to Jesus and threw their garments over it for him to ride on. As he rode along, the crowds spread out their garments on the road ahead of him … all of his followers began to shout and sing as they walked along, praising God for all the wonderful miracles they had seen. "Blessings on the King who comes in the name of the Lord! Peace in heaven, and glory in highest heaven!" Luke 19:28-38
Using that scriptural reference from Luke 19 as a foundation, author Anthony DeStefano tells the tale of a lowly donkey who has yet to realize his great mission on earth. Through DeStefano's poetic rhyme, we experience Jesus's ride into Jerusalem on Palm Sunday through the donkey's eyes. And the result is a charming children's book, The Donkey That No One Could Ride, by Anthony DeStefano with beautiful and colorful illustrations by Richard Cowdrey.
We are introduced to a lovable yet weak donkey who believes he can do nothing of great importance. He meets Jesus, and his life is changed forever. The following passage with the accompanying illustration still gets me choked up every time.
Then Jesus said to the donkey,
"My help is enough;
It's all that you need.
It's all you require in life to succeed.
The weaker you are,
The more strength I give.
I'll be there to help you
As long as you live.
I know you feel tired and frightened and broken,
But do you believe
These words that I've spoken?
Do you believe — I ask you again.
Do you have faith
I can heal you, my friend?"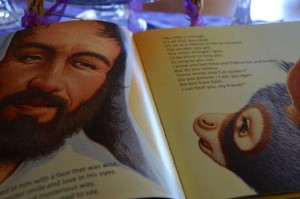 Jesus simply asked that donkey to have faith in Him. That's it. And the story continues on and quite simply illustrates the transforming power that awaits the donkey if and when he just has faith in Jesus. And so goes for us, of course.
While that lesson may be a bit too advanced for the youngest readers among us to fully comprehend, the book stands as an excellent resource for gentle catechesis on the majesty of Palm Sunday.
As I scan the blogosphere looking for Lent and Easter book basket ideas, I rarely see The Donkey That No One Could Ride listed. I know there's no one-size-fits-all approach when it comes to booklists, but this is one book that really should be in every child's Easter basket. It is a favorite in our home, for little and big kids alike, and I'm confident it will be in yours, too.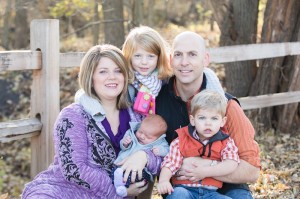 Lisa Schmidt writes at ThePracticingCatholic.com with her husband Joel. A proud Iowan, the Schmidts reside in Des Moines where Lisa is a full-time at-home mom. Lisa is also heavily involved in supporting Joel as he journeys through deacon formation.
At The Practicing Catholic, Lisa enjoys writing about the things that bring her great joy: the Catholic faith, her family, fine arts, and good food.
You might also be interested in:
*Lisa is one of the "not-quite-in-Peoria-but-still-local" bloggers listed in Local, Catholic, and Online.  Lisa has been to our diocese for the 2012 Behold Conference, and Lisa was one of the "Meet the Bloggers" I helped to organize.  In 2013, she came back to the diocese for a First Saturday meeting called, "Authentic Friendship in An of Social Media," and that's where we got to be better friends.  Here is a post with many photos I took, as well as the article I wrote for The Catholic Post on it.
*am I the only one jealous Lisa & Joel got to go on a Footsteps of St. Paul tour? Not just even, but especially, because of getting to ride the donkey.
*Lisa writes how the book The Donkey That No One Could Ride is a not well-known book, and I would agree.  I had never heard of it before, and I can't wait to read it. Thanks, Lisa!