Here's my column that appears in this weekend's print edition of The Catholic Post.
With Mother's Day right around the corner, and Father's Day not too far behind, here are two "outside the box" books to consider as gift ideas for the special women and men in your life.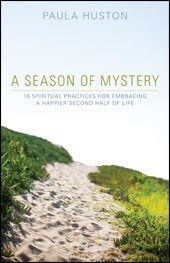 First is A Season of Mystery: 10 Spiritual Practices for Embracing a Happier Second Half of Life by Paula Huston.
This might not be ideal for a young parent of small children, but at the same time it's not only for your grandparents or great-grandparents. I'm solidly in middle age, and I found this book both challenging and uplifting, a spiritual resting place in my busy life. I also found it provides encouragement to keep an eye on the real future of life after death, and what that means for my life now.
I struggle with how to characterize A Season of Mystery.
Is it a memoir? Not strictly—Huston does reflect on her journey so far, but brings in so much more.
Is it a how-to of getting older? Well, sort of–and yet there's so much wisdom in unpacking the stages of later life.
Huston offers 10 time-honored spiritual ways (from listening to accepting to blessing, and mroe) that people through history have embraced, instead of fighting against, getting older and what that means.
Mostly, A Season of Mystery offers space for reflection on life's later stages. Let me share three elements that make this book golden:
*the lovingly stories of Huston's family and dear ones, and those she knows, and how they exhibit grace (or not) in later life. Her mother moves from the family home to a senior community and befriends others. A beloved monastic friend faces illness and helplessness, and learns to accept help gracefully. A neighbor faces death with honesty and beauty.
*stories and wisdom from little-known (to me) saints and spiritual writers such as Evagrius and St. Seraphim of Sarov about growth in the spiritual life. There are so many nuggets for pondering, I found myself actually annoyed by how often I wanted to write down a quote or concept.
*Huston's own reflective and open way of writing about her history, her failings and how she seeks to grow in her second half of life.
Very different, and very enjoyable (especially for moms), is Recipe for Joy: A Stepmom's Story of Finding Faith, Following Love, and Feeding a Family by Robin Davis.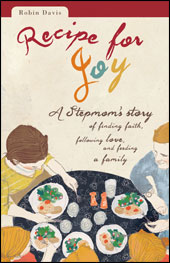 This book is Davis' honest and uplifting memoir of faith & family. She vows to never move back to her home state of Ohio, never get married, and never join an organized religion. She does all three, and adds in three children, when she marries a widower after moving back to, yes, Ohio.
Each chapter of Recipe for Joy is a meal course, from The Toast to The Dessert, and the writing of a particular chapter reflects the theme. In "The Soup," for instance, she writes of the struggles of blending into her new family. In "The Bread," she writes honestly about her struggles with depression and not-fitting-in among the other "real moms" since she is a stepmom and a working mom among stay-at-home moms.
At the end of each chapter, there's a tasty recipe. Because the recipes are elegant but fairly simple, I felt confident to try (so far) the the prosciutto-wrapped asparagus. It was delicious, and I've bookmarked most of the others.
But consider the recipes a bonus treat.
What's really best about Recipe For Joy is the nourishment of a well-told story, how Davis weaves together family and candor in sharing her struggles as a wife, stepmom, and fledgling Catholic. You'll come away from "Recipe for Joy" perhaps ready to try a few new recipes. But better, you'll find yourself spiritually fed and encouraged in your Catholic faith.