Regular readers here will know how much I enjoy running, and I have aspirations to do a series on running and Catholic life, with guest authors writing (like I did last year) about marathon or other race experiences.
This year, I have kept up with my running.  I've had a goal to do a monthly half-marathon (no "official" races;, just a 13.1 mile run or longer, along with my regular runs, at least once per month), and I've kept up with that and more, but my times have been sooo slow.
Even with that, until last week I haven't felt motivated to sign up for any spring, summer or fall races, even as I see friends on Facebook and elsewhere signing up for various marathons, half-marathons and other races.
After yet another far-too-slow and unmotivated run around my same-old neighborhood, and with weather getting a little warmer, I realize that signing up for some races and get myself running a little faster is in order.
I discovered a local race that will also allow me to support a great cause, one of the other reasons I love to do races.
Bels Second Chance is being directed by a local elite runner, Pat Arnold.  He agreed to do a Q&A with me about the race, and I encourage any local runners who, like me, need a little motivation for faster times, or just getting out there, to do the 5K or 10K this Saturday, April 6.  If you do come out for Bels Second Chance, be sure to say hi to me!  I'll be at the back of the 10K pack.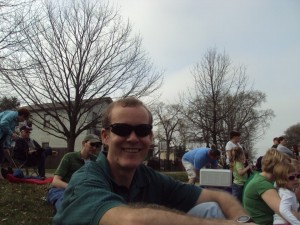 Q. What is the Bels Second Chance Race for Your Heart?
Bels Second Chance race is a 10K, 5K and kids run event to raise support and funds for the family of Bels Montgomery, a little girl who had a heart transplant last year. The races will be held at 9 a.m. April 6 at Five Points in Washington, IL.
The cost is $35. To sign up, go to http://www.belssecondchancerace.com/.
A lot of folks are planning to walk the 5K. All of the funds for the race go to the Montgomery family through a charitable organization named COTA to help with the transplant expenses.
Q. What is your role with the Bels Second chance race?
I am listed as the race director; it's my first time in that "official" role. I am fairly active in the running community and I was asked to help with the race. I certified the course for the for the 5k and 10k and did a lot of organizational work for the race.
However, Crystal Montgomery, Bels' mother, has a great team working with her to raise funds for her daughter's heart transplant. They have a great deal of experience in fundraising. The race was definitely a team effort.
Q. How did you get involved with the race?
I met Crystal Montgomery and her daughter Isabel (Bels) though an early intervention program sponsored by OSF about three years ago.
My daughter Elizabeth (now eight years old) was born three months early. She did not end up with any long term issues but has had a lot of physical therapy and assistance from both Easter Seals and OSF. Bels had a heart transplant in August 2012 and I wanted to help.
Bels had three surgeries at 10 days, ten months, and three years of life. There is nothing harder than watching a child go through surgery. My daughter had a shunt implanted in her head at six months and it was one of the hardest things I ever experienced.
Isabel had three of them and she was given an extremely low chance of survival for each of them. Many children on the waiting list for organs pass away because organs do not become available and they simply get too sick. One in 125 babies are born with heart defects. A race seemed like a great way to help the family out, raise funds for someone locally, and celebrate a little girl that beat impossible odds.
We were blessed that my daughter did not have any issues. We were told that she had a high chance of being disabled and we did not know if she would be able to walk until after the first year of her life. Her sister Mary passed away in the hospital.
Mostly, my reason for getting involved with the race is so that I could help another family with a child that had medical issues.
Q. Tell me about the kids fun run associated with the race.
The kid's fun run is a free, one-half mile, noncompetitive run for kids and their families. Many times kids see their parents at a race and want to participate. The kids run is a great way for kids to cross the finish line and get a ribbon for participating in front of a crowd cheering them on.
Q. The Facebook page for the race is pretty active, and a lot of door prizes are listed. What are some of the highlights?
We have a raffle for a lot of great prizes including running central gift certificates, a free photography session or $125 off a wedding session at Kristen Winkler photography, sunglasses from Bard, Optical, and many other local sponsors who have joined with us in our efforts to help a little girl who needed a new heart.
Q. Can you tell me more about COTA and its work?
COTA is the children's organ transplant association. They help families raise funds to pay for transplant related costs. They started in 1986 with a family in Bloomington, Indiana whose insurance carrier would not pay for a needed liver transplant. Because the insurance would not pay for the transplant, the family could not even get on the organ transplant list. COTA was formed to help families raise funds for situations like this.
Are you doing any races this spring?  What's your motivation for running?