Several people tagged me on a meme going around Facebook to list "10 books that have had a lasting impact."  I keep meaning to do it, but I really have been doing a lot of IRL (in real life) things.  The younger kids and I are trying to get into a homeschooling routine, and I've been trying to accomplish a lot of house projects.
After the (for me!) success of Sugar-Free August, I started a Facebook group called De-Clutter September, and again, I'm loving the support and accountability.  I haven't done very much de-cluttering, but I've been doing a lot of house organizing/painting projects that have been on back-burners.  Yesterday I put together an IKEA island, and that was really satisfying.  I even had the kids help me, in my quest to have them comfortable with power tools at a young age.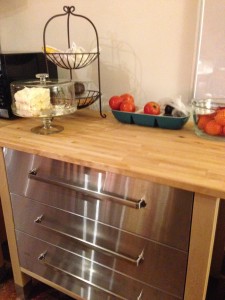 Yay me!
But I digress.  Here are the 10 books that have had an impact on me.    They are in no particular order, and I can't even say if these are my life-long ones–just ones that have had a recent (in the last 20 years or so) impact.  I'm also including a quote from each one that I just love.

Understood Betsy by Dorothy Canfield Fisher.
"The answer to that question is that she didn't do it because Cousin Ann was Cousin Ann. And there's more in that than you think! In fact, there is a mystery in it that nobody has ever solved, not even the greatest scientists and philosophers, although, like all scientists and philosophers, they think they have gone a long way toward explaining something they don't understand by calling it a long name. The long name is "personality," and what it means nobody knows, but it is perhaps the very most important thing in the world for all that. And yet we know only one or two things about it. We know that anybody's personality is made up of the sum total of all the actions and thoughts and desires of his life. And we know that though there aren't any words or any figures in any language to set down that sum total accurately, still it is one of the first things that everybody knows about anybody else. And that is really all we know! 
 So I can't tell you why Elizabeth Ann did not go back and cry and sob and say she couldn't and she wouldn't and she couldn't, as she would certainly have done at Aunt Harriet's. You remember that I could not even tell you why it was that, as the little fatherless and motherless girl lay in bed looking at Aunt Abigail's old face, she should feel so comforted and protected that she must needs break out crying. No, all I can say is that it was because Aunt Abigail was Aunt Abigail. But perhaps it may occur to you that it's rather a good idea to keep a sharp eye on your "personality," whatever that is! It might be very handy, you know, to have a personality like Cousin Ann's which sent Elizabeth Ann's feet down the path; or perhaps you would prefer one like Aunt Abigail's. Well, take your choice."
Emily of Deep Valley by Maud Hart Lovelace. (I love all the Betsy-Tacy books, but I'd have to say this is my absolute favorite book of Lovelace).
"Depression settled down upon her, and although she tried to brush it away it thickened like a fog. "Why, the kids will be home for Thanksgiving! That will be here in no time. I mustn't get this way," she thought. But she felt lonely and deserted and futile. "A mood like this has to be fought. It's like an enemy with a gun," she told herself. But she couldn't seem to find a gun with which to fight.
….
"Muster your wits: stand in your own defense." She had no idea in what sense he had used it, but it seemed to be a message aimed directly at her. "Muster your wits: stand in your own defense," she kept repeating to herself on the long walk home. After dinner she sat down in her rocker, looked out at the snow and proceeded to muster her wits. "I'm going to fill my winter and I'm going to fill it with something worth while," she resolved."


The Last Battle (Book 7 in the Chronicles of Narnia), by C.S. Lewis.  The Last Battle is not necessarily my favorite of the Narnia books–The Horse & His Boy is my definite favorite, though I love them all.  But last month the younger kids and I were reading it for the eleventeenth time, and I find it tremendously powerful.  Every time I read this one, I also grow more and more devoted to Emeth, the virtuous Calormene who serves Tash all his days, but was really serving Alsan.
"It is false. Not because he and I are one, but because we are opposites, I take to me the services which thou hast done to him. For I and he are of such different kinds that no service which is vile can be done to me, and none which is not vile can be done to him. Therefore if any man swear by Tash and keep his oath for the oath's sake, it is by me that he has truly sworn, though he know it not, and it is I who reward him. And if any man do a cruelty in my name, then, though he says the name Aslan, it is Tash whom he serves and by Tash his deed is accepted. Dost thou understand, Child ? I said, Lord, thou knowest how much I understand. But I said also (for the truth constrained me), Yet I have been seeking Tash all my days. Beloved, said the Glorious One, unless thy desire had been for me thou wouldst not have sought so long and so truly. For all find what they truly seek."
The Duke's Children by Anthony Trollope.  This is the last of the Pallister novels.  I love the entire series, and I've just begun re-reading it.  I'm only in Can You Forgive Her? but I knew my favorite quote would be in The Duke's Children, describing the Duke of Omnium after his wife, the wonderful and my most favorite Trollope character ever, Lady Glencora, dies.
"It was not only that his heart was torn to pieces, but that he did not know how to look out into the world. It was as though a man should be suddenly called upon to live without hands or even arms. He was helpless, and knew himself to be helpless. Hitherto he had never specially acknowledged to himself that his wife was necessary to him as a component part of his life. Though he had loved her dearly, and had in all things consulted her welfare and happiness, he had at times been inclined to think that in the exuberance of her spirits she had been a trouble rather than a support to him. But now it was as though all outside appliances were taken away from him. There was no one of whom he could ask a question. "
Pride & Prejudice by Jane Austen, because how could I not?
"Oh! certainly," cried his faithful assistant, "no one can be really esteemed accomplished who does not greatly surpass what is usually met with. A woman must have a thorough knowledge of music, singing, drawing, dancing, and the modern languages, to deserve the word; and besides all this, she must possess a certain something in her air and manner of walking, the tone of her voice, her address and expressions, or the word will be but half-deserved."
"All this she must possess," added Darcy, "and to all this she must yet add something more substantial, in the improvement of her mind by extensive reading."
The Lord of the Rings by J.R.R. Tolkien
"'And we shouldn't be here at all, if we'd known more about it before we started. But I suppose it's often that way. The brave things in the old tales and songs, Mr. Frodo: adventures, as I used to call them . I used to think that they were things the wonderful folk of the stories went out and looked for, because they wanted them, because they were exciting and life was a bit dull, a kind of a sport, as you might say. But that's not the way of it with the tales that really mattered, or the ones that stay in the mind. Folk seem to have been just landed in them, usually – their paths were laid that way, as you put it. But I expect they had lots of chances, like us, of turning back, only they didn't. And if they had, we shouldn't know, because they'd have been forgotten. We hear about those as just went on – and not all to a good end, mind  you; at least not to what folk inside a story and not outside it call a good end. You know, coming home, and finding things all right, though not quite the same – like old Mr. Bilbo. But those aren't always the best tales to hear, though they may be the best tales to get landed in! I wonder what sort of a tale we've fallen into?'"
Hard Times by Charles Dickens. I'm re-reading Tale of Two Cities but Hard Times is one of my favorite Dickens.
"How could you give me life, and take from me all the inappreciable things that raise it from the state of conscious death? Where are the graces of my soul? Where are the sentiments of my heart? What have you done, oh, Father, What have you done with the garden that should have bloomed once, in this great wilderness here?' said Louisa as she touched her heart."

"Now we won't be sober any more. We'll look beyond the years—to the time when the war will be over and Jem and Jerry and I will come marching home and we'll all be happy again."
"We won't be—happy—in the same way," said Rilla.
"No, not in the same way. Nobody whom this war has touched will ever be happy again in quite the same way. But it will be a better happiness, I think, little sister—a happiness we've earned. We were very happy before the war, weren't we? With a home like Ingleside, and a father and mother like ours we couldn't help being happy. But that happiness was a gift from life and love; it wasn't really ours—life could take it back at any time. It can never take away the happiness we win for ourselves in the way of duty."
Baby Island by Carol Ryrie Brink.  I feel like I've had a lot of downer quotes and even books, but this is such a great, funny book, and it's had a great impact on me when I need a really good laugh.
"Once Mr. Peterkin's hard heart had started to soften, it was just like ice cream in the sun." 
The Important Book by Margaret Wise Brown.  So many of her books are my favorite picture books, but this is my absolute favorite.
"The important thing about you is that you are you."
So that sums up my book list (for this week). Consider yourself tagged if you're reading this– I'd love to see your list.